Ideas & Insights
Top Tips for Hosting a Brazilian Themed Event or Party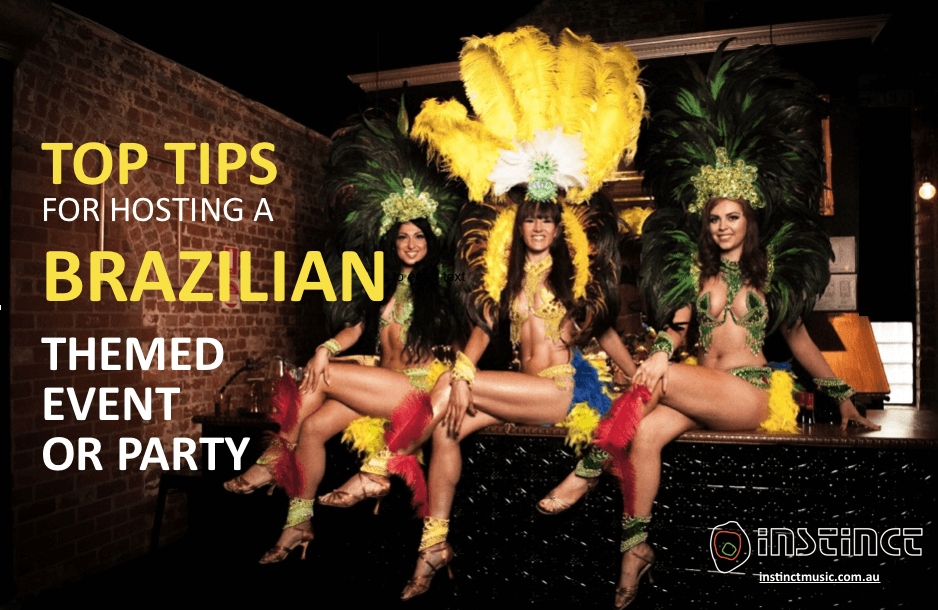 Brazilian Themed Events: Whether you call call it RIO CARNIVALE, Brazilian Theme, or Mardis Gras, everyone knows the Brazilians know how to throw a party. Energetic, sexy, passionate and full of energy, the mere mention of this event theme conjures images of dancing all night to amazing live music and watching the sun rise (with sore feet!).
The Brazilian themed event has been reinforced in the Australian corporate event "space" by the successful FIFA World Cup Soccer and the pending Rio Olympics. The Rio or Brazilian themed events are here to stay and gaining in popularity.  Here are some top tips on how to deliver your Rio or Brazilian Event theme and some amazing entertainment suggestions to help you deliver your party .
Brazilian themed Event Ideas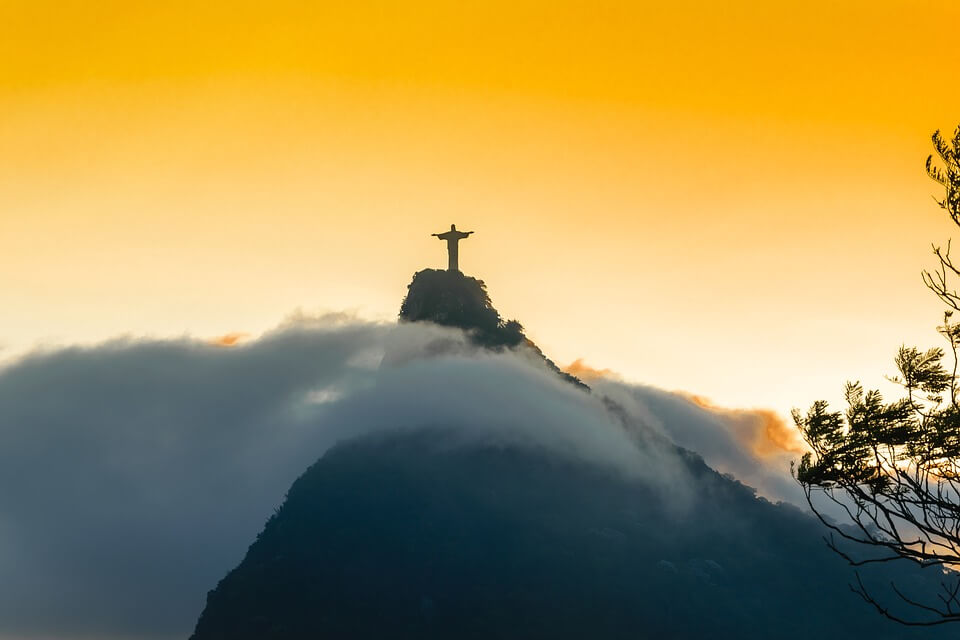 Invitations
Think outside the square. Create an invitation that speak originality, authenticity and fun. We have heard of client having greeting cards with small chips put in, that play music when they open (think about your guests opening the invitation to the sounds of pounding , amazing drummers and guitarists. Boom. they want to dance already.
Something to wear: What about sending a small item of costume jewellery to the girls ? Earrings, head wear or a necklace ?
We have had clients use small percussion instruments as invitations, with the request to join in the music!!! You are limited only by your imagination and the Brazilian Theme Event or Rio theme leaves options wide open. Anything goes during Mardi Gras, Right?!
Menus and Signage: Your choice of colour pallet for the room should be reflected in all print, menus, invitation, table seating plans.  lean on the colours of the Brazilian Flag, being  yellow, blue and green. These are vibrant and colourful and set the tone for a night of fun.  You can also use other vibrant colours associated with Latin American cultures.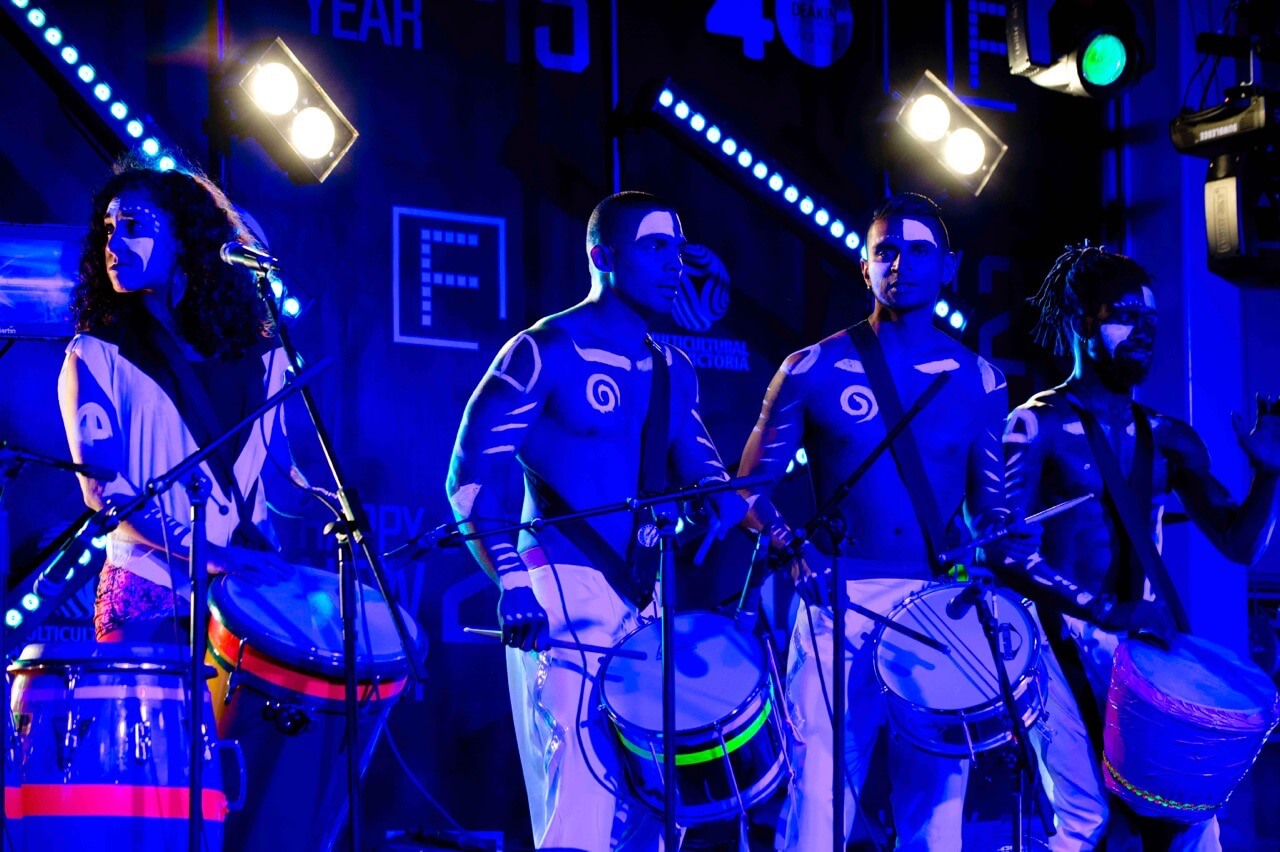 Brazilian Themed Event: Decor & Styling
Props can include plants, ferns and play trees, conjuring the images of Brazilian rainforest, amazon and lushes fertility associated with this amazing country. Exotic animals (not real ones, but fake ones, paperiness or even posters of colourful birds will also add to the room dressing. Vases of exotic feathers can be used as props to dress bar areas, arrival or entrance areas.
Why not have large bowls of tropical for as you centre piece ? It will be well received, and seriously, your guests will eat it and the drink flow and the night goes on!  Alternatively, yo cant go wrong with feathers, beads and coloured lights. It works.Simple
Brazilian themed Event: Stage or set design
The stage area could be dressed as simply as a large Brazilian flag, BIG, colourful, powerful. Alternatively, we have helped dress stages for clients, with props, feathers, even cane furniture!!!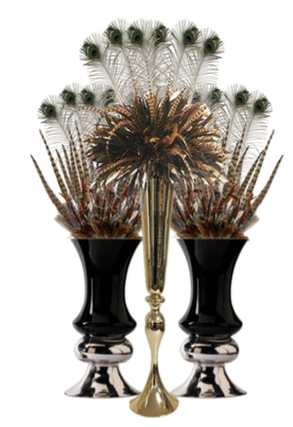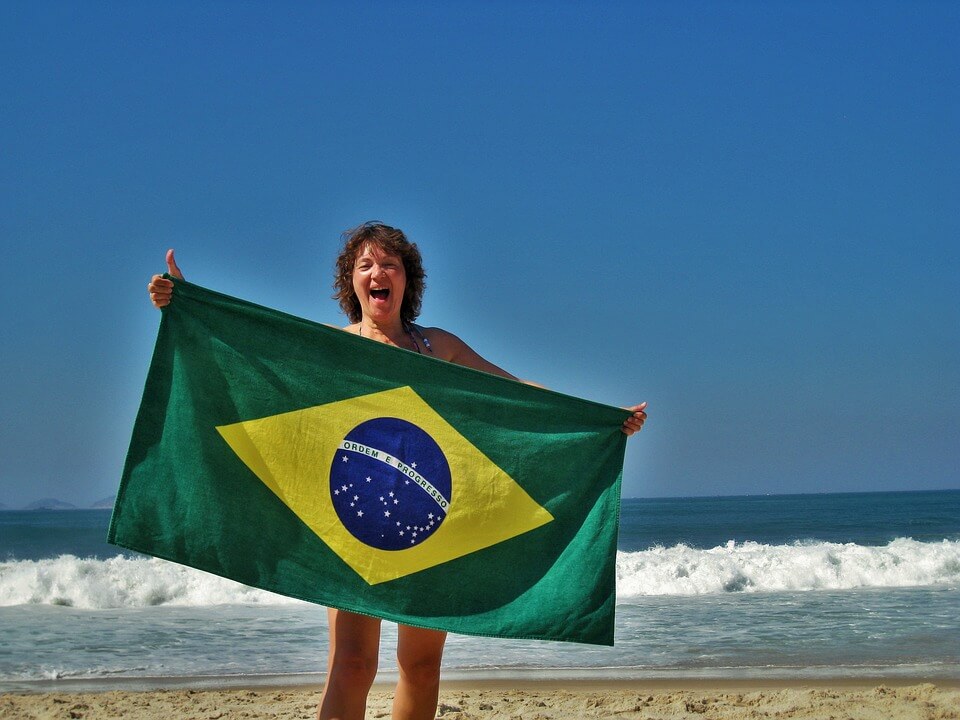 Brazilian Themed Event Entertainment
Ensure your guests stay entertained throughout the evening, by providing Brazilian Themed entertainment throughout the event.
If you are having a cocktail party, you can use roving performers of various description to add "eye candy" throughout your event.
if it is a sit down affair, think about small podium stages, allowing entertainment to create "moments" throughout the event. This adds style, pizzaz and allows guests to continue mingling as they are entertained (without having to stop, shush up and watch)
Brazilian Themed Events are all about the music
Pre-function drinks – why not set the tone on arrival with some beautiful SAMBA, or LATIN JAZZ music. Easily achieved for event of all sizes, this could be a simple as a solo guitarist or duo.  the relaxed sounds of this music are universally loved , and easy and affordable for event planners to deliver. Most world music options add scale and size of band for your budget
Guests can enjoy a cocktail, or mysterious fruit punch on arrival, while there toes tap away.
Between Entree & Main: this gap is ideal for formalities, however to keep the energy an fun up why not introduce a floor show, Dancers, Capoeira, or a combination show such as Energia Brazil are ideal for Brazilian themed Corporate entertainment.

Dinner: Over dinner why not extend the music to include chilled Bossa Nova grooves in a slightly larger format.  Instinct also offer specialised Latin, Brazilian bands that can traverse for quiet dinner music, to flat out dance floor hits.
Instinct also offers Latin American Djs for events.  Some of these D'Js work in conjunction with live musicians , creating DJ combo acts.  Imagine you dj, with live congas, timbales, or horns.!! fun right!
After Dinner: if you guests are not dancing you have failed to deliver your Brazilian Themed Event
The Brazilian themed event is all about dancing. There is no excuse to not deliver this.  If you are after a fully authentic Latin American band, no problems. Instinct has options across Australia. Whether you choose bands or DJ's accompanied by live drummers, Instinct can help you find the perfect corporate entertainment  or party entertainment for the Brazilian, Rio or Mardis Gras theme
Capoeira performers combine the skills of martial arts with dance to produce a spectacular display of physical fitness, grace and movement. Capoeira is nearly always accompanied by awesome drum music ensuring the audience does not stop moving. This Traditional Brazilian theme martial artistry is perfect for festivals, outdoor events and Brazilian theme events. It willed excitement and is guaranteed to exhilarate the audience or crowd with breath taking acrobatic moves and power, uplifting beats and rhythms and a powerful display of skill.
Batucada Drummers:  Batucada roving drummers, usually costumed are great for juts about any stage in your Brazilian themed event. Ideal as a meet & greet they can guide guests into the main room for your room reveal moment.
Performing on stage, they can add energy and lift the spirits of the room, Performing outdoors, there is hardly a match for this style of roving drumming. Ideal for many events, perfect for for the Brazilian themed event
Dancers: this is were it is at. the costumes, the feathers, the glamour. Brazilian style show girls are a must in your event planning . Ask us about  world music and cultural acts  we can offer in your location or state.
Stilt performers;  can also o be used to add colour and visual eye candy to you event, be it madras gras parade style or Rio Brazilian themed event, stilt walkers, fire breathers and limbo dancers can all add to the colour and excitement of your Brazilian themed event entertainment.
Want more Corporate Entertainment ? Other Event Theme Ideas ?