Ideas & Insights
Conference entertainment @ MCEC – Melbourne Convention & Exhibition Centre
Conference entertainment @ MCEC
The insurance and professional services industries can be conservative when it comes to entertaining their staff or agents. An even tougher call is to get guests ready to party at 5pm on a school night after a two hour theatre style conference session. When tasked with the challenge, here is how Instinct did exactly that for Unisuper event held in the Melbourne Room 202, at the MCEC (Melbourne Conference and Exhibition Centre)
Conference entertainment @ MCEC – Entertainment & Event Management
The team at instinct were given the task of managing the event, including stage management, logistics, styling and entertainment. We set about establishing a look rather than theme, given the nature of the event and guests, it allowed a colour scheme to "unite" the various event elements.
Conference entertainment – Styling ideas for event without a theme
The clients logo colours were incorporated in to both decor and stage set design.
Massive balloons were used to break up the "box like" nature of the room and especially the corners of the room. This was done by using draping and a balloon garland to create depth on the stage. Seriously large (up to 8 foot) balloons were then flown in the corners to take out the hard corners for the guests view looking towards the stage.
Whilst time consuming this is a cost effect and dramatic way of dressing the room.

Cover bands & DJs get them dancing
The guests had sat through lecture style event in Melbourne room 201, prior to the cocktail party starting at 5pm. Since there were little or no formalities at this event, it was basically all about getting them on the dance floor, enjoying the space, food and hospitality
Melbourne's number one cover band, Chunky Jam™ were selected to entertain the 500+ guests as well as the DJ Emma proving the tunes in the bands breaks.
Chunky Jam™, as always, nailed it. Their 7 piece line up (featuring a male and 2 female lead vocalists) getting the dance floor full and keeping guests there. Dj Emma did the rest ensuing the companies objectives were met.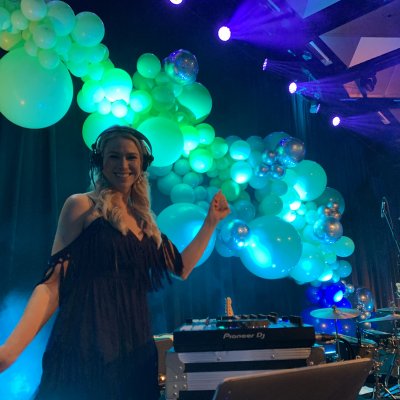 Instinct provided
Event management
Stage management
Floor plan and run sheet coordination
Decor & Styling including furniture selections and booking, balloons, disco ball and more
Entertainment booking
talent booked:

Client testimonial
"Nothing but good reports on the event last week – thank you and please thank the team. I look forward to working with you again."
Michelle | Executive Assistant to the CEO