Ideas & Insights
Rio Carnival Brazilian Theme Events for Crown VIP Events
Rio Carnival Brazilian Theme Event is about the most fabulous theme available for corporate events. It immediately conjures up vision of fabulously attractive people in outrageously colourful costumes, complete with feathers and face painting.
After last years hugely successful Alice in Wonderland theme event, Crown Melbourne's event team once again worked with Instinct to create an event to inspire, engage and most of all, be fun.
Rather than use one of the regular crown event spaces, the decision was made to utilise the roof space on level 3.  Crown installed a marquee suitable for up to 300 guests. Located on level 3 outside of the Spa, it came complete with amazing skyline views of the city. This space was a special choice, and allowed for an indoor / outdoor rooftop experience their VIP guests and staff alike don't usually get to experience.
Rio Carnival Brazilian Theme Event – Pre event planning
In previous VIP events Crown's staff have delivered their VIP clients with flash mobs and other WOW moments of staff participation and engagement. This year a DRUM MOB was utilised.
Now for those uninitiated, this is like a flash mob however rather than dancing the staff got on drums and blew everyone away. This involved Instinct bringing in trained drum instructors and giving the staff a number of training sessions leading up to the Rio Carnival Brazilian theme event. This gave the team a chance to gain proficiency and confidence and had the double effect of being a cool team building activity.
This was a super cool part of the pre planning and allowed the whole team to feel engaged with their end of year event and built expectation amongst the whole team.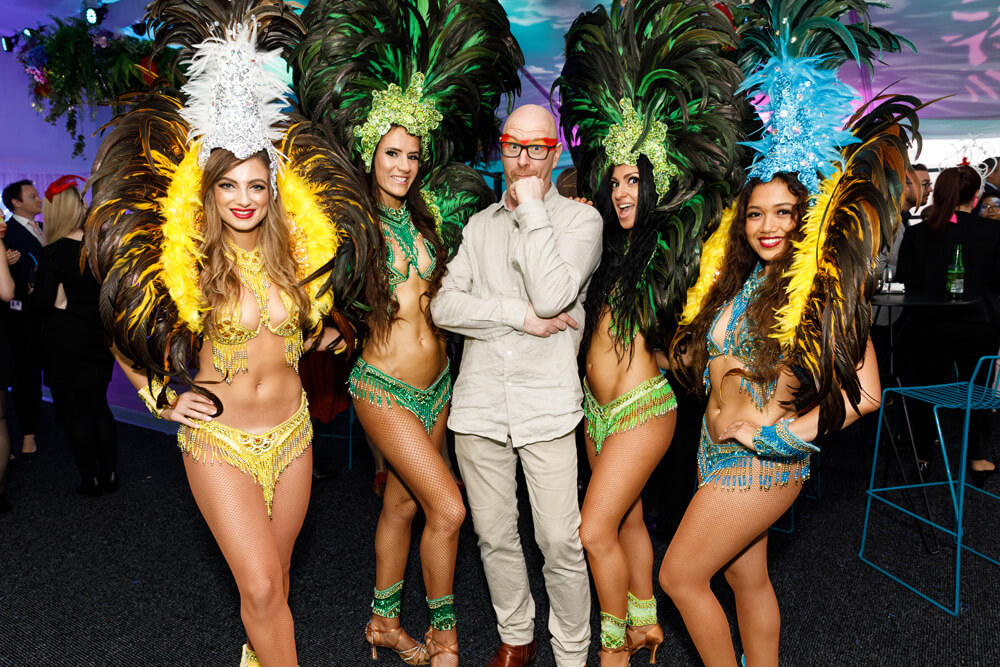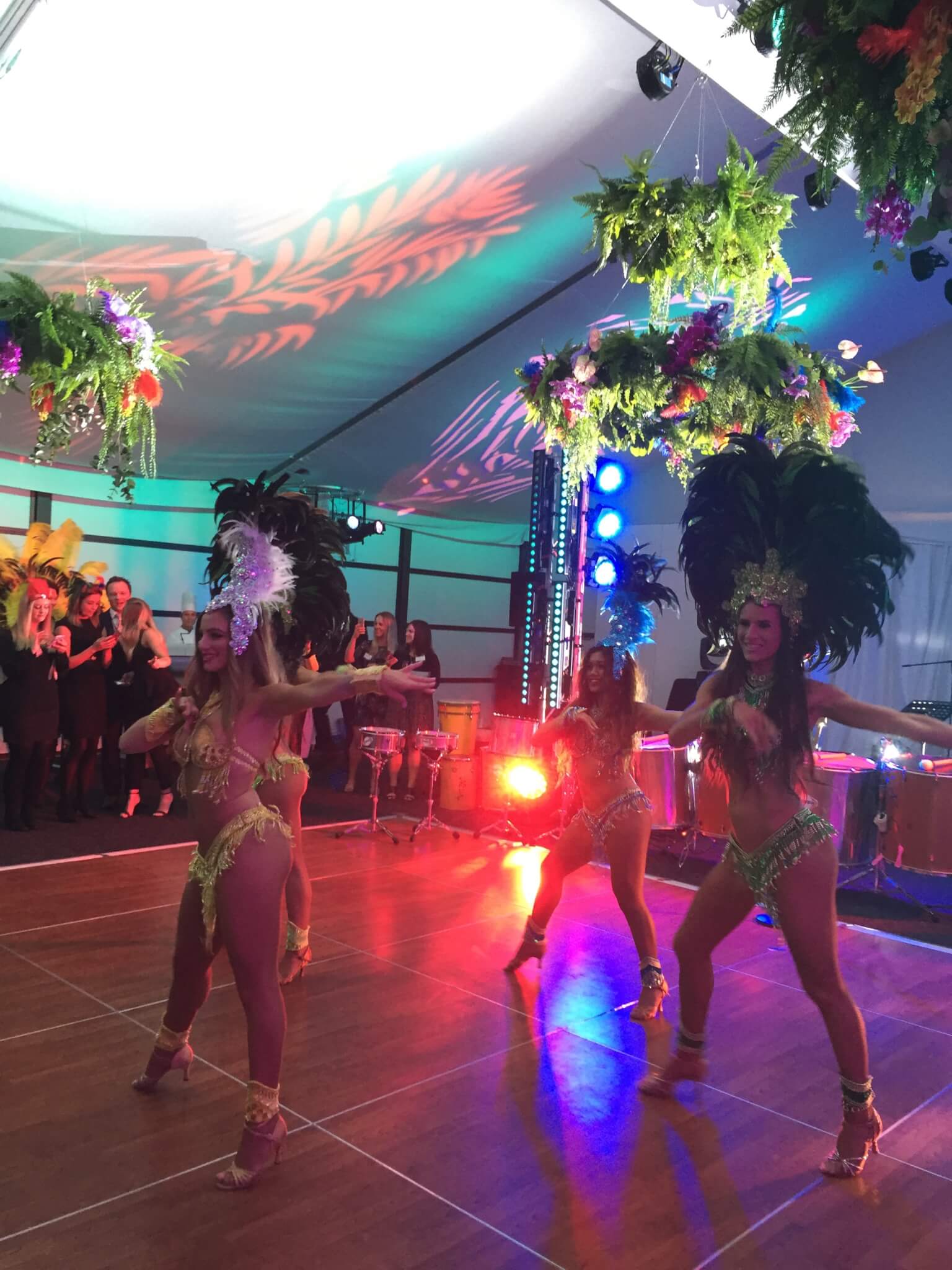 Rio Carnival Brazilian Theme Event – Floor plan and layout
In the early stages Richard Sayer (Instinct's Managing Director) took the idea with both hands. working on an outdoor garden., complete with large palm trees, Kentia palms and assorted greenery. These were bought in dress the area and to shield the guests form the existing tennis courts and building.
A large Green wall was utilised to control the view and suspend reality. This blocked out the building and tennis court and allowed guests to focus on the plants, greenery and amazing view.
Truss structures we set up along with festoon lighting and beautiful colourful furniture bought it to create colourful highlight.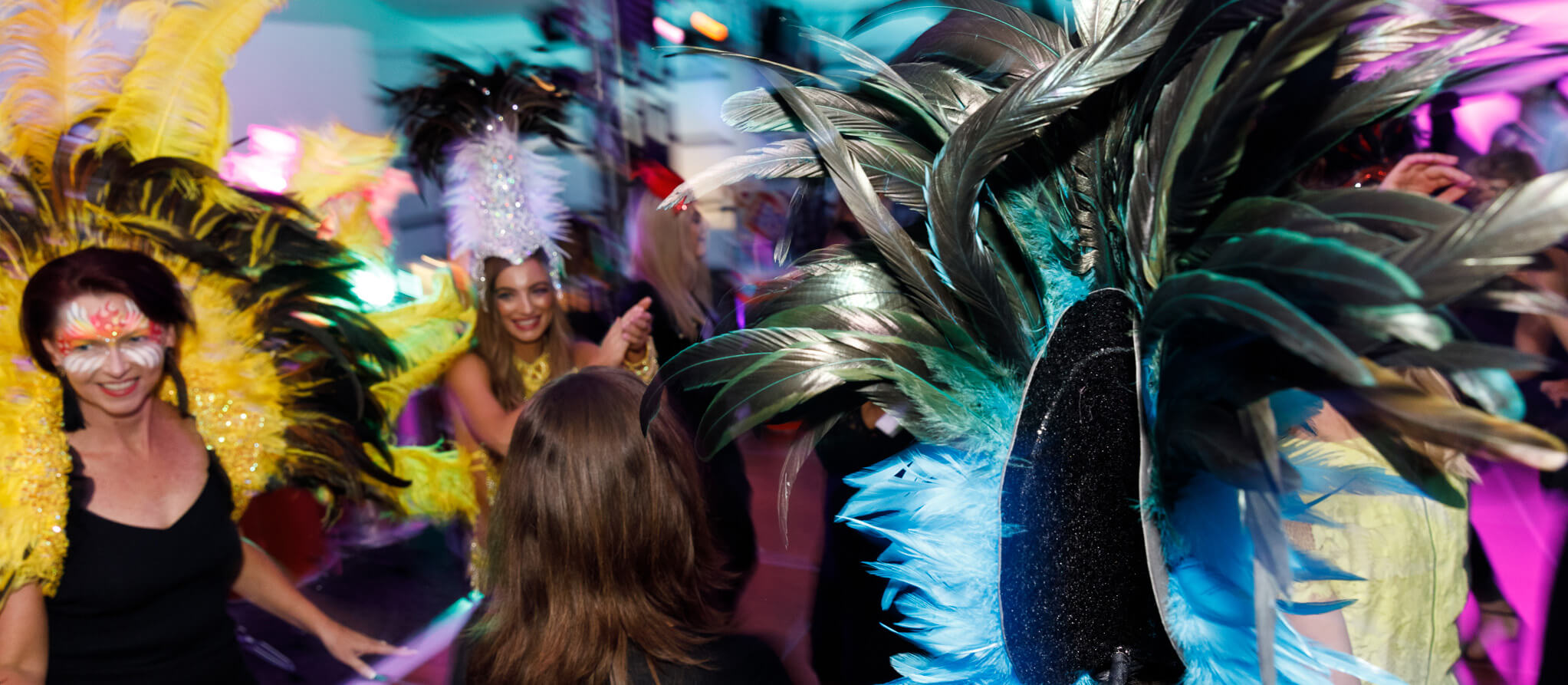 3 distinct zones were used to create atmosphere.
Guests arrival – the green wall and astroturf surface created and amazing landing pad for guests.
Outdoor – the outside area was dress to impress with the palms, festoon, furnishings and outdoor food carver (amazing)
Marquee – a sanctuary form Melbourne "rain forest appropriate" weather. the marquee was warm, inviting and compete with floral ceiling installations (style by nature), neon "rio " stage set (supplied by Staging Connections) and more.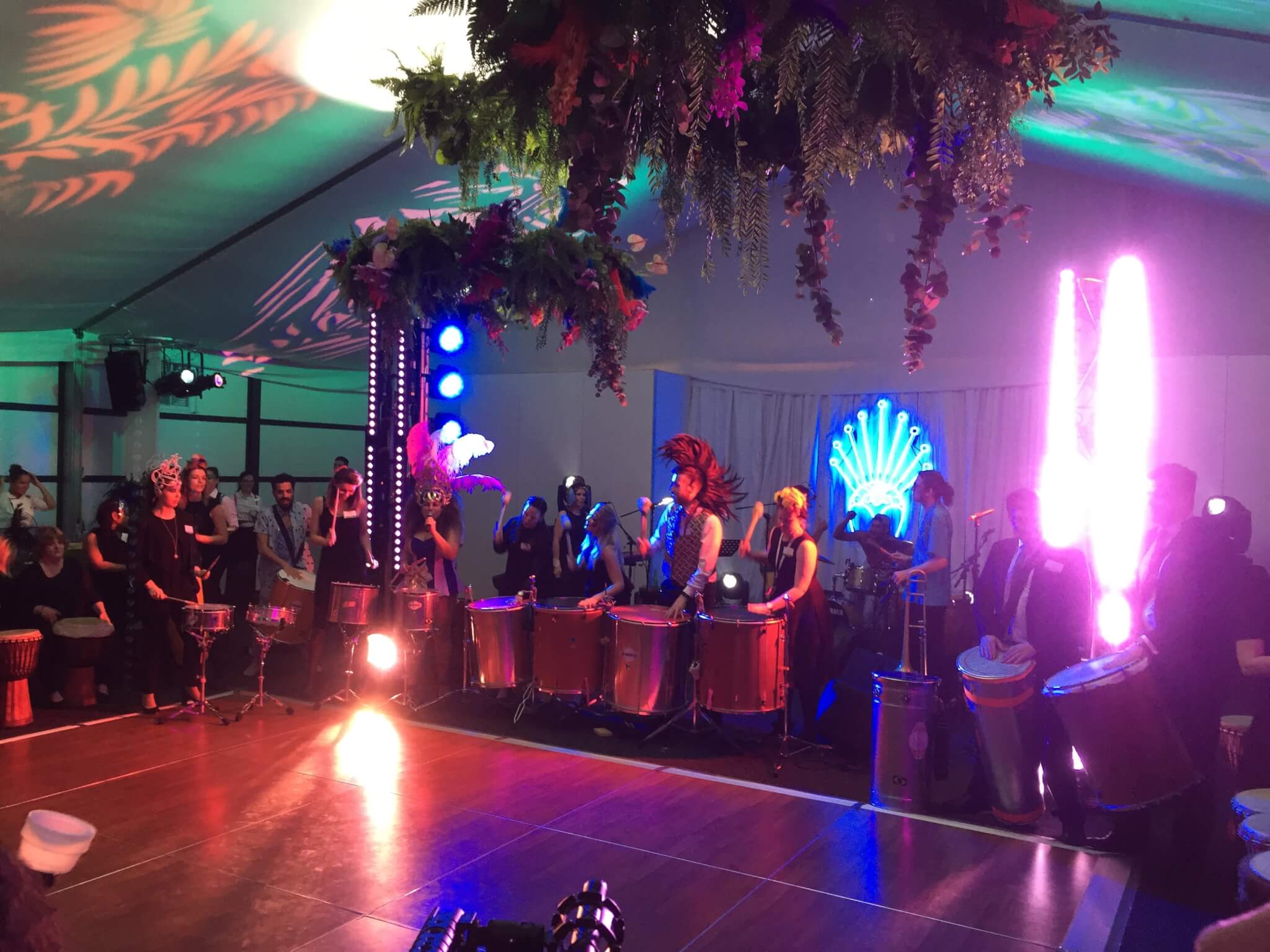 Rio Carnival Brazilian Theme Event – Styling and theming
Bright colour full furnishing were included with loads of cushions to ensure the guests conform and to enhance the overall vibe, on what turned out to be a wet and grey Melbourne day.
Rio Carnival Brazilian Theme Event – Staff preparation
Along with learning the drumming, staff arrived early to have their faces painted and to get into costume. The face painting was a particular highlight as each person had custom face painting done, to help "get in the vibe". This then of course, continued as the guests also took the opportunity to get the Rio Carnival Brazilian Theme Event spirit.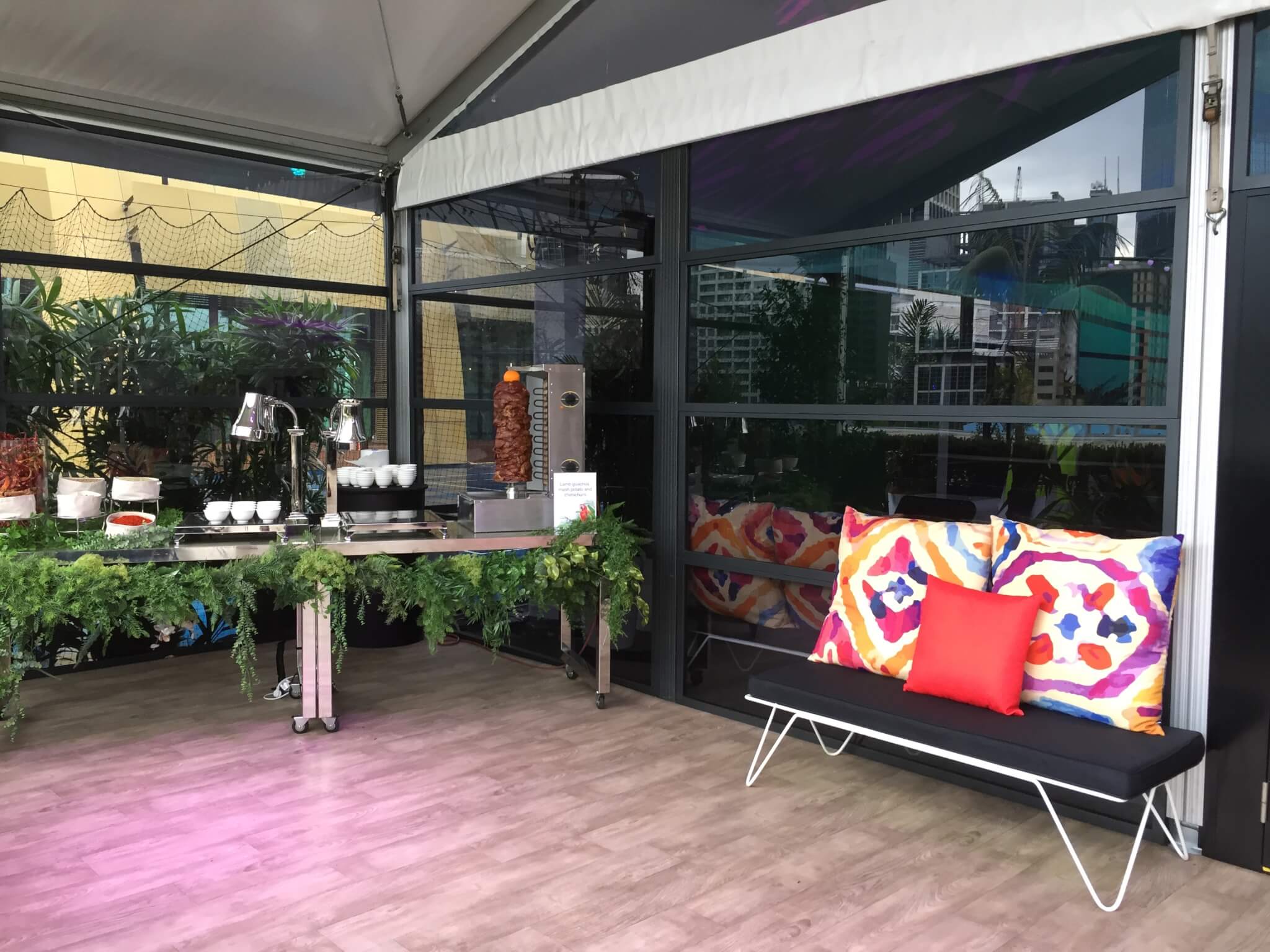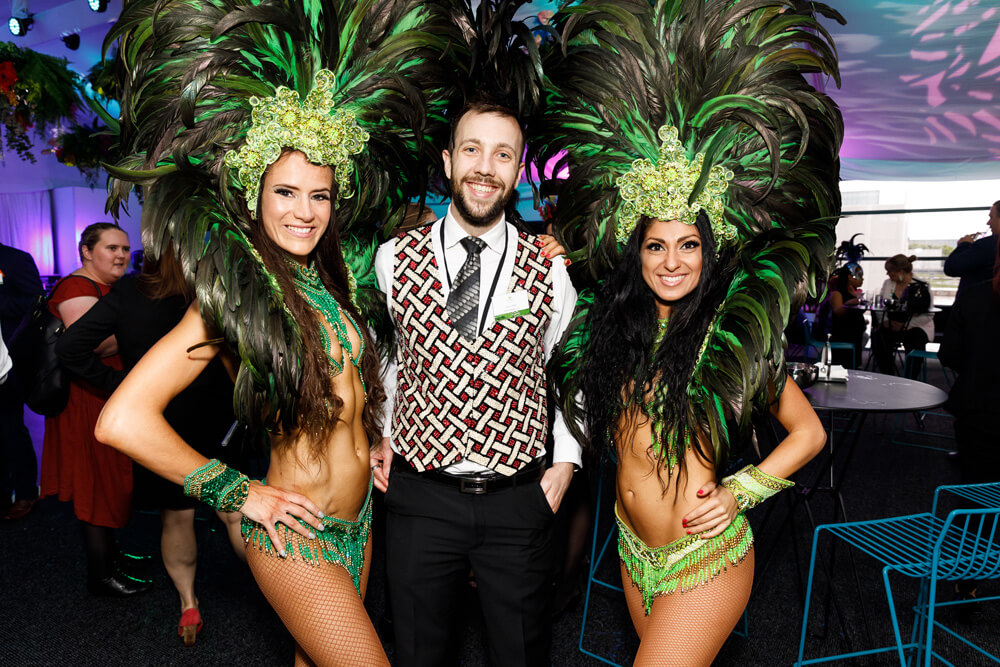 Rio Carnival Brazilian Theme Event – Guest arrival
Guests were entertained by DJ Marrs (specialist Brazilian and latin dj for instinct) – However most where more taken with the three metre (3m) long python and snake handler adorned in full Rio styled outfit treating them on arrival.
Guests and staff alike look amazing by the real snake and really loved taking those "selfies" with a python around their neck. The simplicity of adding a live animal to an event can not be overstated. this was hugely successful and loads of fun.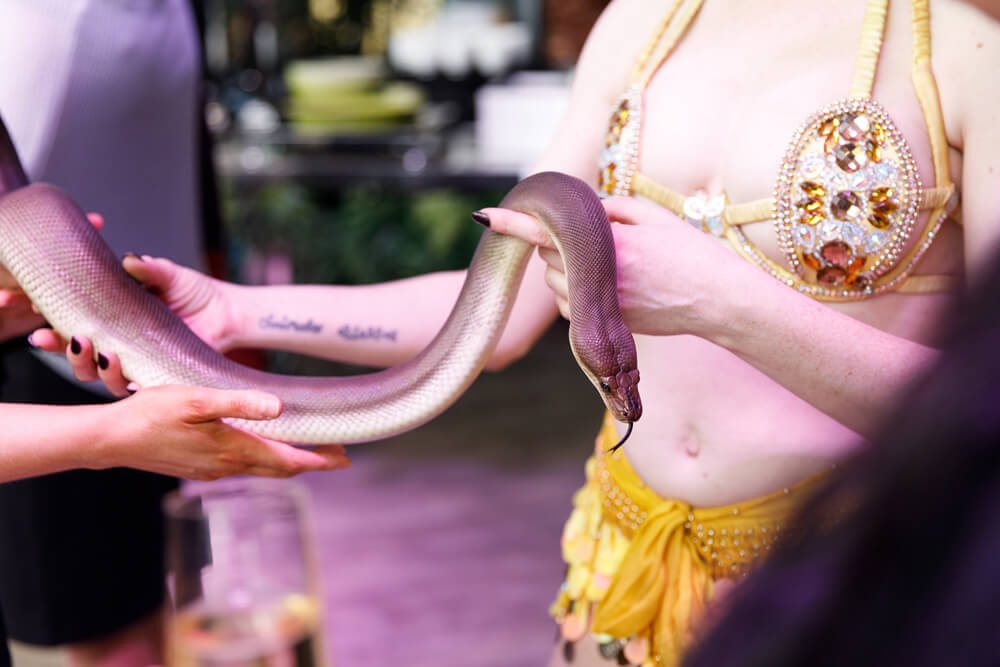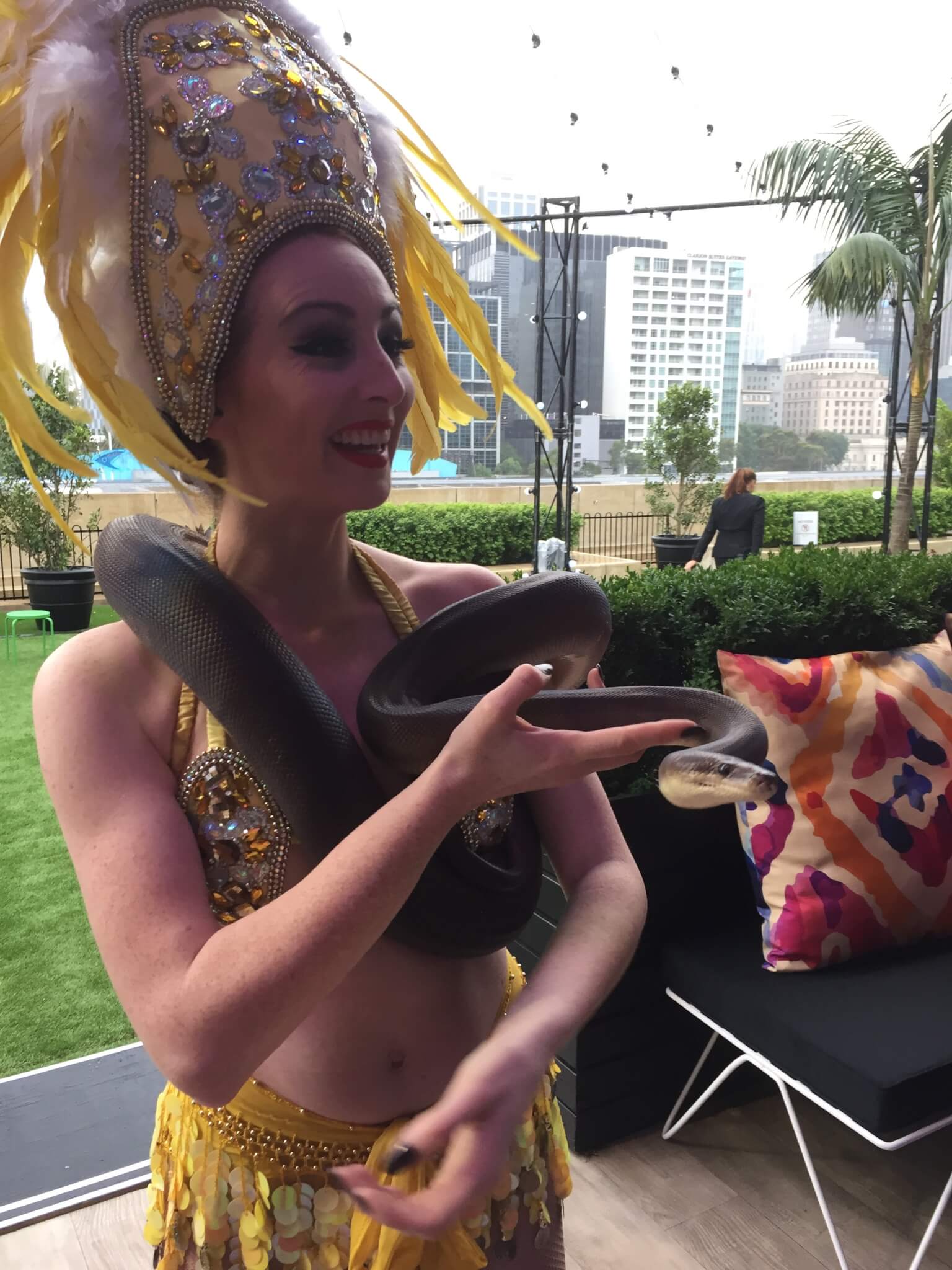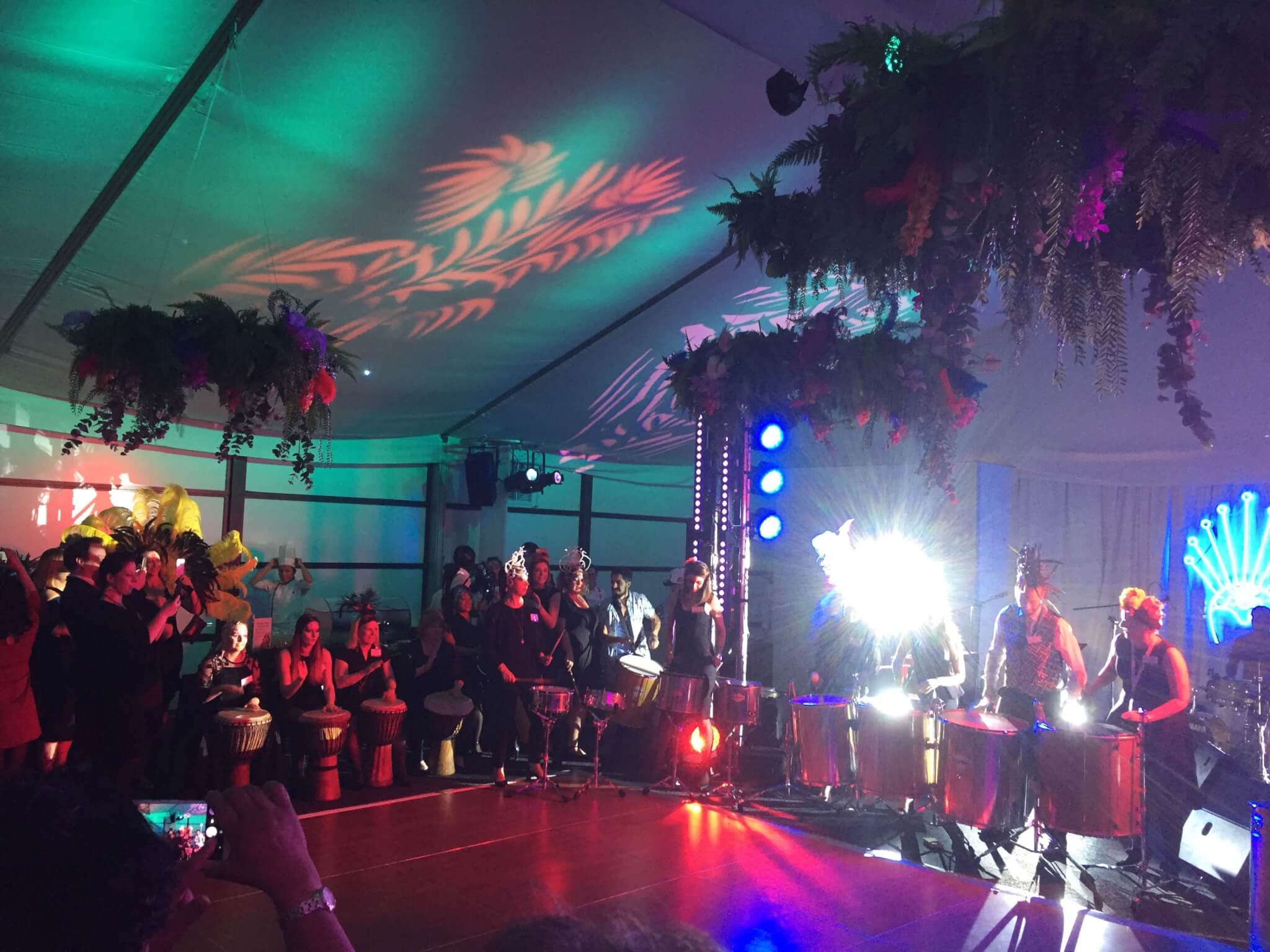 Rio Carnival Brazilian Theme Event – Entertainment
With many corporate event you can select a range of entertainment and the run sheet looks after itself. Not so with this event. a range of performers we brought together to create a custom experience never seen before. Instinct prides itself on creating a sense of family amongst its performers, this event was a highlight.
All performers from the custom created Band (Groupo Logico – or "Group Logic), DJ Marrs , Instincts Brazilian Samba dancers and outrageously fit capoeira performers worked together to create a seamless flow on entertaining moments to keep guests engaged..
Rio Carnival Brazilian Theme Event – Latin DJ
Dj Marrs held his own providing a vast range of Brazilian and Latin grooves and tunes, throughout the night,m with the ability to read to crowd he seamlessly gave the audience chilled latin grooves, 1950s mambo Latin dance party songs through to contemporary dance as required.
Rio Carnival Brazilian Theme Event – Live music
The bans was indeed a custom creation, now born and available for other Rio themed events.  Combining a number of members from three different groups, this band brought together an all star line up. Providing sassing tunes of Carlos Santana, to an array of Brazilian hits they worked at the right volume to allow guests to enjoy this marquee roof top without being drowned out or forced outside via volume.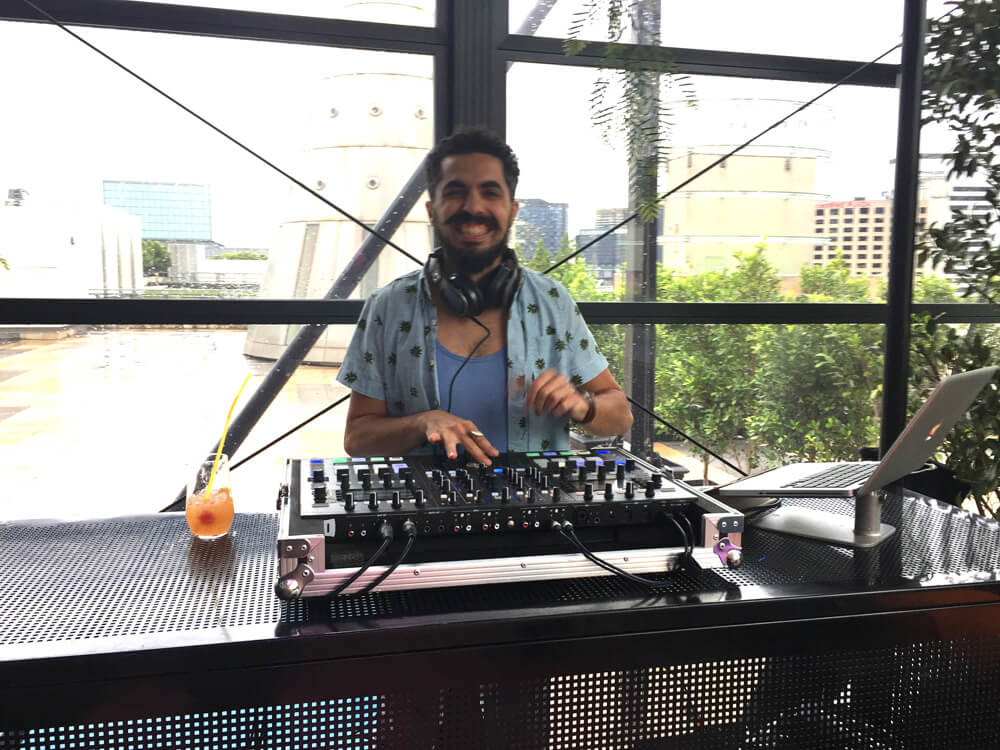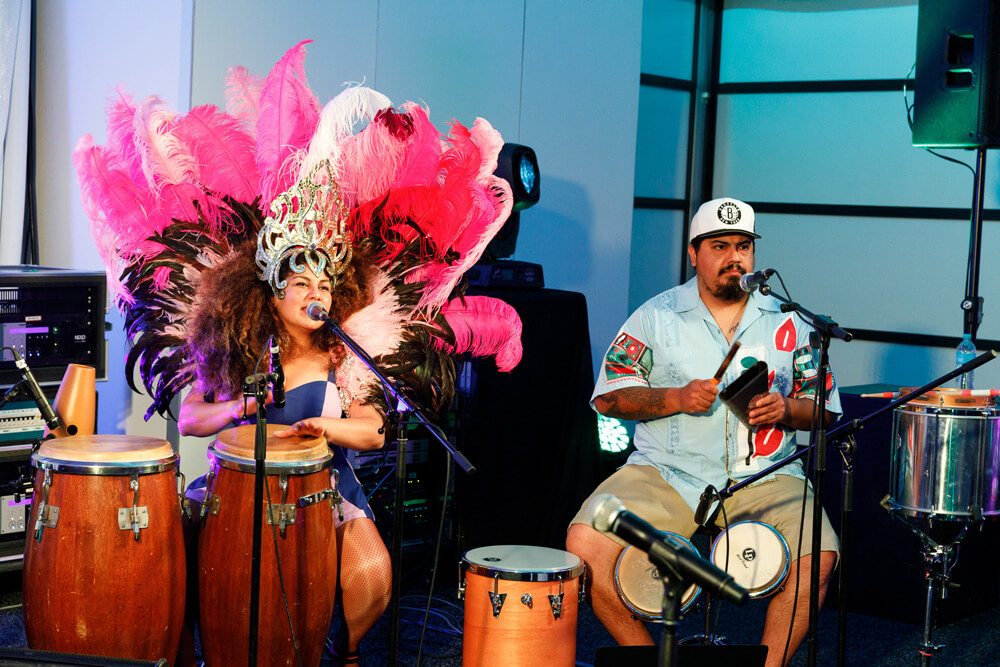 Rio Carnival Brazilian Theme Event – Drums, drums, and drums
Bringing in addition drummers they then worked in conjunction with the Crown event team to create the "drum mob" moment that had guests on their feet and applauding. This was a real highlight for guests and staff alike.. and juts quietly I thin the band and drummers and fun too.
Rio Carnival Brazilian Theme Event – Capoeira
As if this wasn't enough introduce three outrageous fit guys who can do backflips at will, in time with the now vigorously enthused drummers.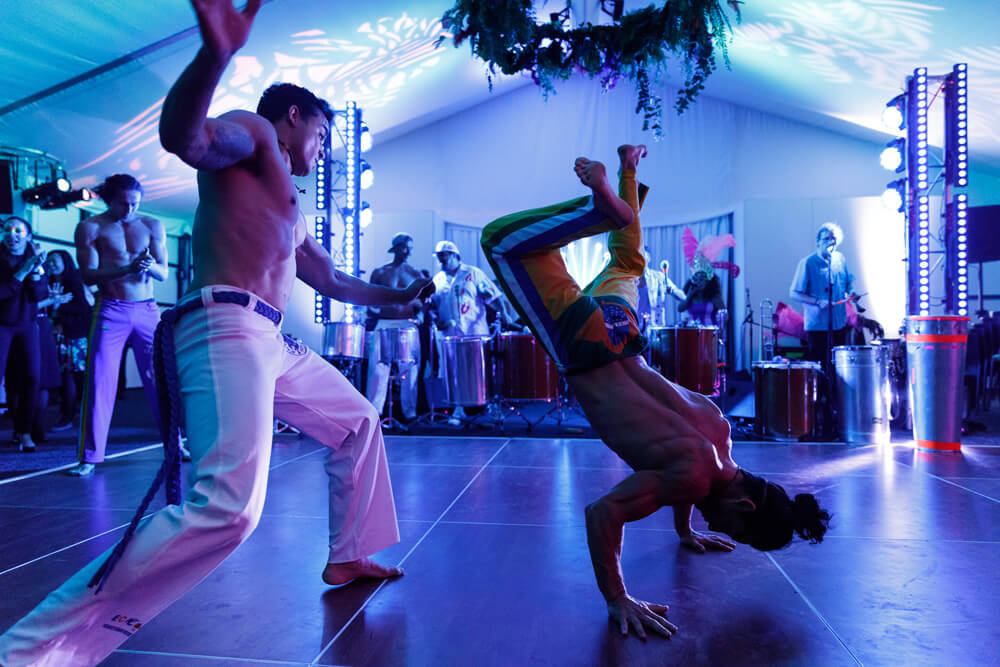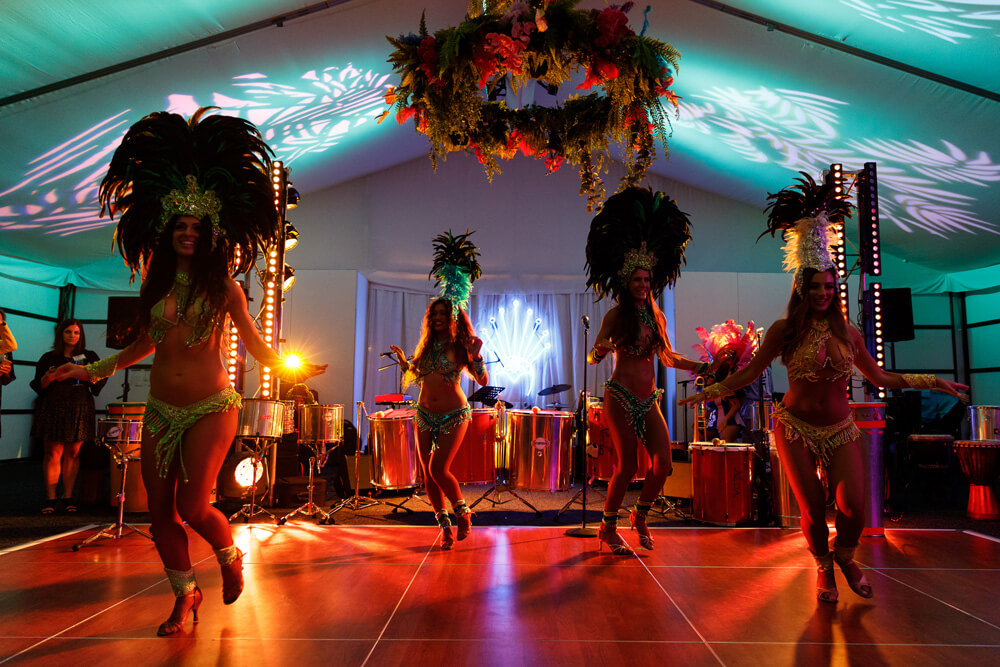 Rio Carnival Brazilian Theme Event – Samba dancers steal the show
However, everyone know that sexy girls in feathers dancing in ways that we all wish we could, is a show stopper.
Introduce the instinct Brazilian dance crew, who literally stole the show. It had to beat this sort of performance.
It was a great honour and compliment to be selected to work with the crown team and their other selected suppliers ( Res Ex, staging connection and Style by nature) to bering together this event.
Instinct provided.
Event Management
Concept creation & Development
Floor plan and layout design
Stage management & Show calling
MC duties (as required)
Event videography
Decor and styling consultation
Entertainment provided by Instinct