Ideas & Insights
15 Secrets to a Successful Awards Night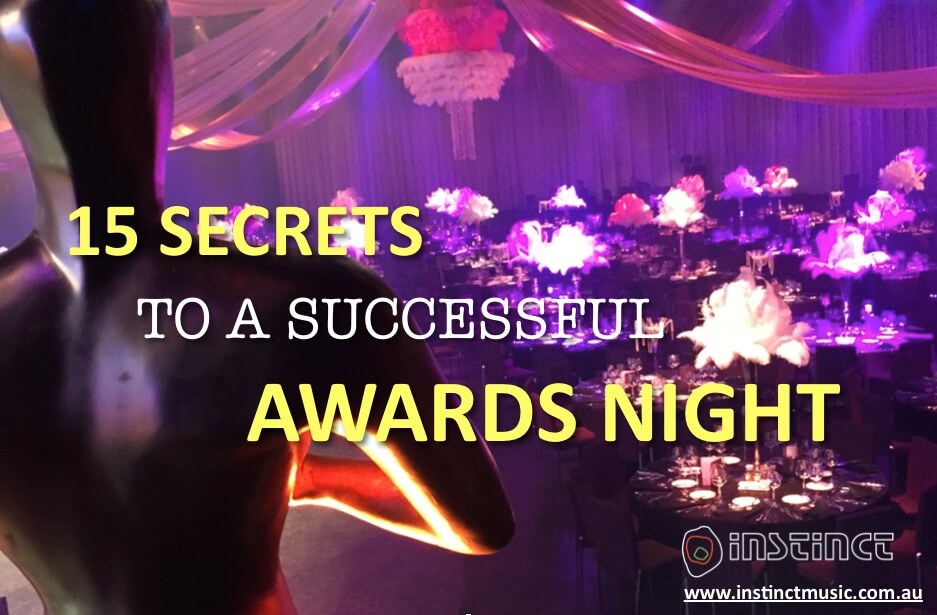 The awards night acknowledges the achievements of the individual and the team. It is a chance to thank the sponsors and let everyone kick up their heels. The dance floor is full and no one left early!
Leave them talking about the great night, and the person who organised it
15 Secrets to a Successful Awards Night
Budget for everything your awards night needs
As an event planner you need to account for everything. Make sure you don't have any nasty surprises in your budget by having a thorough budget from day one. Remember, to ask for  packages or bundles or services from your suppliers to deliver more bang for you buck!
Get the right space to make the awards night a reward
Choose your venue wisely!  The choice of venue will not only effect the bottom line for your event, but create a large part of the atmosphere or ambience for your event.
Do you have a theme for your awards night?
Your choice of venue, decoration & entertainment should all reflect the theme? If you need ideas just check out our event theme section for suggestions.

Timing of your awards night?
What time of day? what time of year? Depending on the nature of the event, these factors can have a large impact on attendance and overall vibe!

Special Dietary Requirements
Do you have it covered? It's extremely important to make all guests feel welcomed, and that you have their dietary needs covered. No one likes to go hungry!
Turn on the tech talk at your awards night
Know it or have someone there who does!  Technology is a big part of any event, and it is critical that all runs smoothly. Work with professionals only. If you want to capture the night, please do ask us about our video and photography packages
Big Stage, Big Screen, Lights, Camera, Action
Let the winners be seen and heard !  The use of Audio visual equipment can make or break any awards night and will ensure that all guests can see whats going on up front!

Entertainment with Energy!
Make the awards night a reward for all who attend. The awards night recognises the achievements of the individual and the team. It is a chance to thank the sponsors and let everyone kick up their heels. Your choice of entertainment will determine the success of the night, so make sure you get it right. If you need a hand selecting your entertainment, you have come to the right place. Simple visit www.instinctmusic.com.au to find fun fast for your awards night.

Send them home from your awards with sore feet
You want the dance floor full at the end of the night, with everyone having fun. Make sure you get a fantastic band, suitable for the age and style of your guests, that will engage and hold guests on the dance floor.

Always be Prepared, Plan in detail
From concept to completion, from design to delivery, you have to plan.
Fail to plan, then plan to fail- simple as that.
Know the Right People
From set up to pack up, know everyone on the team and have their contact details on you. The best events are the ones where the whole team comes together and feels connected in the delivery of something special. Choose your suppliers carefully, and where ever possible, work with the best!
Get the right Master of Ceremonies for your awards night
Someone has to coordinate the Awards night, welcome the winners to stage and ensure the night follows the run sheet!   If you need a hand selecting the right MC, you have come to the right place, simply ask us how we can help!
Stage Managing your Awards Night
For larger awards nights stage management is critical. Getting contestants, winners  and entertainers on and of the stage on time, every time.

Use a Professional Event Manager & Show Caller
Decide if you are running the event or spending time with your guests, staff and clients?  You can't do both, so decide and plan accordingly. We highly recommend using a professional Event Manager. Ask us what we can offer!
Go with the flow, be flexible
You plan for everything, but even still things come up! Deal with it! Remain flexible and focused on solutions not blame!