Ideas & Insights
6 Top Christmas Party Theme Ideas to Consider
6 Top Christmas Party Theme Ideas to Consider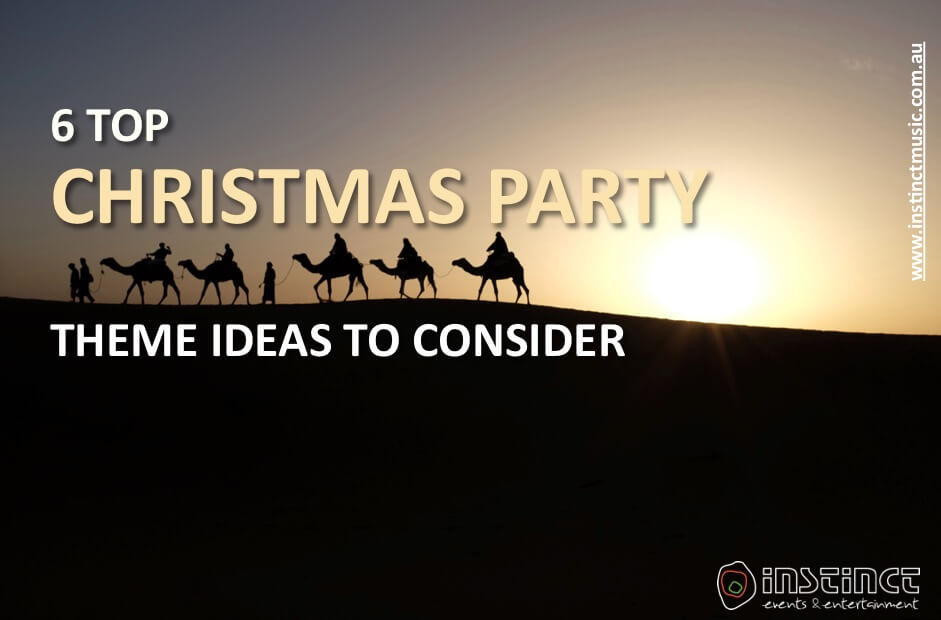 Suppose you invited your boss to a Christmas party at your residence and he was very pleased by with the manner in which you made your décor. And now that the festive season is around the corner, he's tasked you with the responsibility of organising a Christmas party for the company this year.
By now you possibly know the drill of the holiday party circuit: Secret Santa gift exchanges and the ugly Christmas parties. However, you want to be different are thus thinking of introducing more original Christmas themes to the party.
If this sounds like your case, allow us to enlighten you with creative themed Christmas party ideas which you can implement to make your event more colouful.
Christmas Movie Party
This is arguably one of the top party theme ideas that can help revamp and bring life to your organisation's Christmas party. While at it, many holiday film classics can inspire how you celebrate your Christmas this year. Some of the most notable films in this category include Christmas Story and It's a Wonderful Life. As such, consider having your party theme centred around particular typical atmospheres and settings as featured in the movies. For example, you can feature traditionally-decorated Christmas trees across the venue or even offer various menus from the movies including turkey and duck that are complimented by traditional holiday foods like potatoes and cranberries.
Nightmare before Christmas
This theme gives the festive season an entirely different gothic feel and look and is particularly fitting for guests and attendees seeking to get away from the boring, traditional party themes. For this theme, you can incorporate a dark and peculiar décor into the venue to evoke the right atmosphere. The theme goes well with traditional old English cuisine that can include vegetables, roast poultry, salads, and soups. For entertainment, a DJ or a band would fit perfectly here.
Willy Wonka Theme
This is a great tie-in theme that you can choose for your company's Christmas celebration. Your choice of venue for this kind of party should be unique, big, and bold enough to encompass quirky designs and over-sized serving tables. Since this is essentially a desert party, get creative and consider items such as a chocolate fondue, chocolate-coated candy canes, or have a station where guests can make their chocolate sundae. You can also add centrepieces with tall glass vases filled with various levels of sweets.
Murder Mystery
If you are looking for a Christmas party theme that encourages networking and interaction among attendees, you won't go wrong with this theme. It involves a movie-themed event where guests become the active participants of the movie plot. It may call for party staffers or actors to assume certain scripted roles to make it more engaging. Considering your guests are actively involved in the entire entertainment, you'll hardly require to hire live performers.
Christmas Carol Karaoke
This is a music-themed employee party that will easily meet your organisation's budget concerns while also adding an immense entertainment value. However, the one tool you must not fail to have in this themed event is a karaoke machine filled with familiar holiday music. Besides, consider incorporating into your schedule some musical competitions to make the celebration even livelier. You can also adorn your venue with music notes and place on each table wrapped small boxes with in-sheet paper containing Christmas-themed lyrics. Any menu can work for this type of theme.
Christmas Circus
Nothing can get your guest and employees raving about the ambiance and visual effects like this dazzling Christmas party theme. The idea puts entertainment at the top of all other aspects which is why you need to hire a series of specials acts such as jugglers, tightrope walkers, clowns and many more. Also, remember to add a lot of drapery into the event design and consider setting up circus food stations.
Of course, there are many other Christmas themed ideas you can choose to implement for your corporate party. However, we believe that the ones we've described in this post will give you a great starting point and ultimately make your work easier.