Madison
Madison's versatility allows her to perform all genres of music, including classic rock numbers, pop, today's top hits to indie tunes.
Entertainment:

Acoustic with Vocals, Classic Covers, Cover Bands, Duos and Trios, Live Music, Musician Singers, Rock Bands, TOP 40

City:

Sydney

Size:

1-4 performers
Video Samples
Madison showreel
Gallery
1.     1ronic
2.     Who Knew
3.     Ho Hey
4.     Big Jet Plane
5.     Riptide
6.     Sexy and I Know it
7.     Heard it through the grapevine
8.     The One that got away
9.     Sunday Morning
10.  Let Her Go
11.  Forget You
12.  Hot and Cold
13.  Eagle Rock
14.  Hold Back the River
15.  Uptown Funk
16.  Maps
17.  Loosing Myself
18.  I see Fire
19.  Mercy
20.  Say Goodbye
21.  Kiss me/Xo
22.  Outside
23.  We Found Love
24.  Poison and Wine
25.  Valerie
26.  Summer of 69
27.  Panic Cord
28.  Stay with Me
29.  Counting Stars
30.  Sittin on the dock of the Bay
31.  Hey Ya
32.  Horses
33.  New Love
34.  Sweater Weather
35.  Georgia
36.  Latch
37.  Anymore
38.  Am I Wrong
39.  All Summer Long
40.  Pumped up Kicks
41.  Knockin on Heavens Door
42.  Picture Frames
43.  Barrier
44.  Free Fallin
45.  Pompeii
46.  High Hopes
47.  Wonderwall
48.  500 Miles
49.  This Love
50.  Im a believer
51.  ET
52.  Hit Me With your best shot
53.  Blurred Lines
54.  Let It Go
55.  Isn't She Lovely
56.  Khe Sanh
57.  What I like about you
58.  I love rock and roll
59.  Am I ever gonna see your face again
60.  Shut up and dance
61.  Twist and shout
62.  Don't Dream Its Over
63.  Little Talks
64.  Hey Jude
65.  Better be Home Soon
66.  Royals
67.  Run to Paradise
68.  Dancing in the Dark
69.  Accidently in Love
70.  Somebody to You
71.  Breakeven
72.  Hold on were going home
73.  Jealous
74.  No Diggity
75.  Troublemaker
76.  Cant Feel My Face
77.  Dancing in the Moonlight
78.  Hey Soul Sister
79.  Baby I got you on my mind
80.  Shake it off
81.  Sex is on Fire
82.  Use Somebody
83.  Mr Brightside
84.  Sugar
85.  Treasure
86.  Locked out of Heaven
87.  Drag Me Down
88.  Sorry
89.  Love Yourself
90.  Blackbird
91.  Water Under The Bridge
Biography
Madison Sydney Duo | Trio | 4 piece
Madison has been performing as a vocalist and guitarist her whole life, performing at local bars, clubs, charity events and showcases. Madison completed her Bachelor of Music at JMC Academy at the beginning of 2015 and is now studying a Bachelor of Entertainment Management at JMC Academy hoping to become either a Booking Agent or an Artist Manager. She has recently finished recording her first Debut EP 'New Love' which she worked on with various musicians from JMC Academy along with the bassist from the Hoodoo Gurus Rick Grossman, that will be released this year.
Madison is a confident musician in her chosen instrument, and has also gained enhanced skills at self-accompanying herself on guitar if her guitarist is unavailable. Her versatility, allows her to perform all genres of music, including classic rock numbers, original music, today's top hits to indie tunes. She hopes to continue performing regularly, determined to work on getting her original music out into to the world.
Some of the locations she have performed at include Bar Broadway, Unwind Bar, The Menzies Hotel, Restaurant 317, Bar 100, Alfie&Hetty, Lazy bone Lounge, Gladstone Hotel, Nepean Rowing Club, Australian Arms Hotel and Springwood Sports Club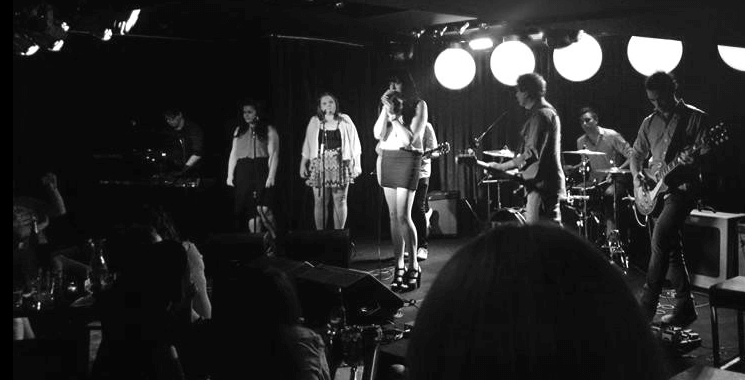 Madison is ideal for:
Connect and share on Instagram,  Facebook, Pinterest, Linkedin
Corporate Event management visit www.instinctevents.com.au