Entertainment:

Latin and Cuban Music, Live Music, World Music

City:

Sydney

Size:

6 Performers
Gallery
Apanhei-te, Cavaquinho – Ernesto Nazareth
Assanhado – Jacob do Bandolim
Benzinho – Jacob do Bandolim
Bole-Bole – Jacob do Bandolim
Brasileirinho – Waldir Azevedo
Brejeiro – Ernesto Nazareth
Carinhoso – Pixinguinha
Cochichando – Pixinguinha
Doce de Côco – Jacob do Bandolim
Lamentos – Pixinguinha
Na Gloria – Ary dos Santos
Naquele Tempo – Pixinguinha
Noites Cariocas – Jacob do Bandolim
Odeon– Ernesto Nazareth
Pedacinhos do Céu – Waldir Azevedo
Proezas de Solon – Pixinguinha
Santa Morena – Jacob do Bandolim
Tico-tico no fubá – Zequinha Abreu
Um A Zero – Pixinguinha
Vou vivendo – Pixinguinha
Biography
Brazilian Blues Band Sydney
Brazilian Blues celebrates all things Brazilian.   Musical styles covered include samba, bossa nova, forro, samba-funk and frevo, but their real specialty is chorinho, the "Brazilian Blues".
The group has recently given rise to the "Clube Nacional de Chorinho da Australia".  A revival of the genre of Chorinho.  Brazilian Blues celebrate and expand this glorious, nostalgic, vibrant style in Sydney and nationally.
Brazilian Blues has performed at many events:
Bellingen
Dubbo and Illawarra Jazz Festivals
Darling Harbour Ritmo Festival
Musica Viva's Cafe Carnivale
Brazilian Carnival events
Brazilian Film Festival (Sydney)
Latin Film Festival (Sydney)
regular performances and residencies at Lazybones and Foundry 616.
Brazilian Blues – History profile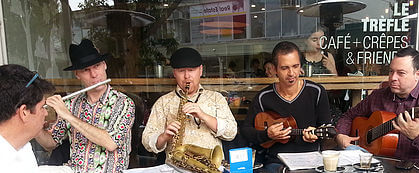 Brazilian Blues was founded back in 1997 by Edivaldo Ribeiro.  He was specialist on cavaquinho (an instrument similar to the ukulele). The groups song repertoire mainly consists of Chorinho, a constantly evolving tradition of Brazilian folkloric music, song, dance and culture.
In the 1920s Chorinho music occupied every niche of Rio's entertainment industry. It can be credited with kickstarting Brazil's popular music development as the world knows it today.
Around 1930 the more 'sing-able' Samba took the popular limelight, which gradually forced Chorinho behind the scenes.
Chorinho went through revivals in the 1950s, 70s and 90s during which younger generations of players enriched its tradition with modern music influences and electric instruments. Currently Chorinho is a stalwart of the popular Brazilian music culture and is being embraced by a growing number of global aficionados. It has become a principal subject in music education in its native culture and Chorinho-Jazz fusion is among the most exiting and innovative of modern fusion forms.
The current line-up of 'Performing Brazil' also includes Stuart Vandegraaff, a celebrated multi-instrumentalist who fronts the group on saxophones and clarinet with admirable virtuosity and musical candour. Right beside him is flautist Ed Schots who gleefully assists in weaving a rich tapestry of musical mischief. Guitarist Ricardo Steyer mixes a vivacious harmonic flavour into the accompaniment while brother Roberto Steyer adds deeply authentic colours to melodies via his bandolim, a Brazilian variant of the mandoline. Renato Feijo generates the group's rhythmical backbone by his unwavering efforts on pandeiro, a percussion instrument akin to the tambourine. And a steady bottom end by Stan Valacos on 7-string guitar guarantees all a safe and enjoyable passage through musical treasures from the Good Old Days in Rio de Janeiro.
Brazilian Blues ,as the name states is a wonderful extension of Brazilian world music that has a funky bluesy vibe.
Connect and share on Instagram,  Facebook, Pinterest, Linkedin
Corporate Event management visit www.instinctevents.com.au