Sensational Servers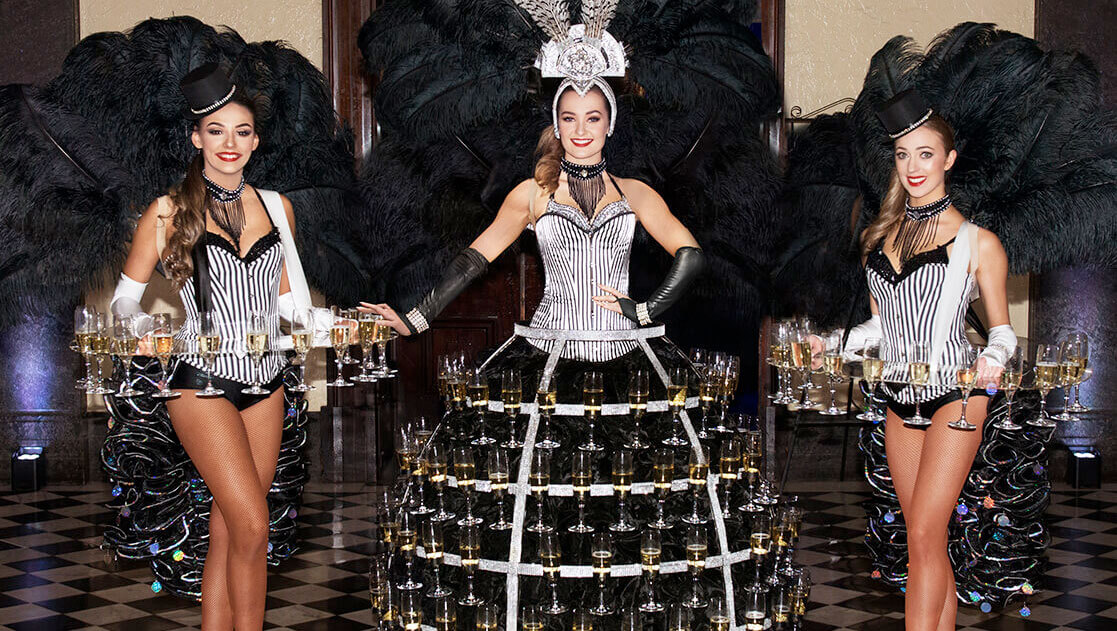 SENSATIONAL SERVERS FOR MOST CORPORATE EVENT THEME'S AVAILABLE!
TELL US ABOUT YOUR THEME !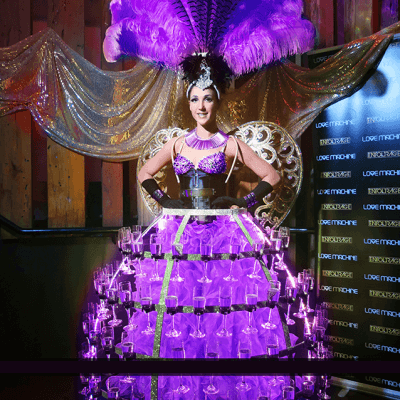 Celebrations begin with a glass of champagne! So why not have it served by our one-and-only, magnificent Champagne Dress Girls!
The Champagne Dress roving act has been a huge hit with all our clients. Instinct offers this exclusive and unique act that transforms any event into instant runaway success!
Available in endless themes and colours, this divine creation swans through your event impressing guests and onlookers all while serving a deliciously sparkling purpose!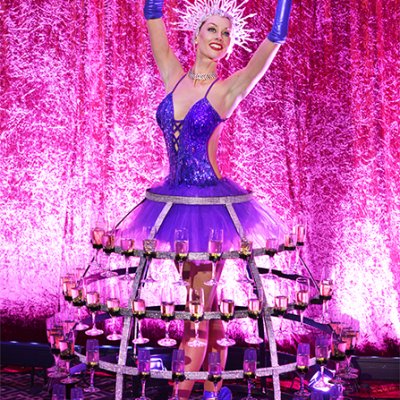 You'll be the toast of the town and your guests will be talking about your wonderful and striking
Champagne Dress Showgirl for weeks!
But really, a picture paints a thousand words, so just take a look at our photos and…Bottoms Up!
View our Champagne Dress Waitresses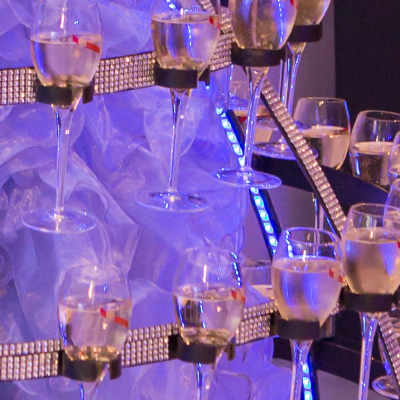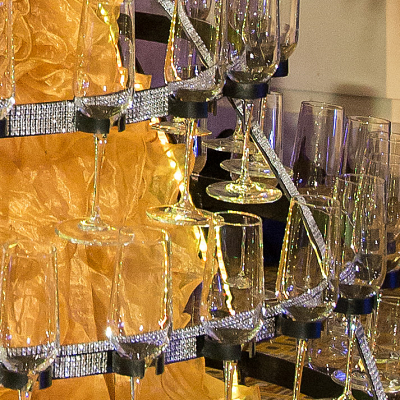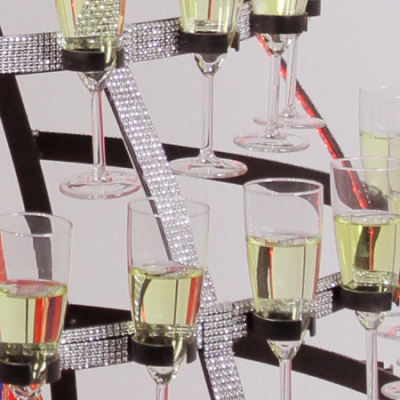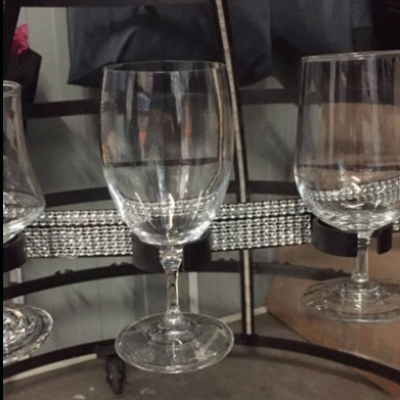 If you or your client has a specific character, theme, or costume outside of what we have existing, please let us know as soon as possible.
There may be extra fees in putting together a brand new look.
The dress is 135cm wide and 115cm high
The Skirt does not collapse down and can't be carried on its side.
We will need enough space to gain access into venues, loading docks and where applicable, lifts.
Complimentary parking close to the venue must be supplied for two cars.
Contact person on the day is required. Please supply a mobile contact number.
Please provide the information best suited for bump-in and location of the loading dock or the best place for unloading.
Our Performer and Stage Manager will bump-in 60min before start time.
A private and secure change room must be supplied with ample lighting, mirrors, and bottled water. Public restrooms will not be suitable.
The Skirt and the Performer/Performers Costume are separate.
The Skirt will arrive at the venue and go straight to its location while the Performer will go to the change room to get ready.
Client to supply Champagne glasses, skirt holds up to 120 glasses.
Glasses to only be filled halfway and then the skirt is to be consistently topped up during the 60mins set, so she'll always look full and stunning.
A bartender or waiter will need to be present throughout the booking to consistently fill glasses to add to the dress, assisting our onsite stage manager.
Empty glasses cannot be placed onto the skirt prior to being filled.
The glasses must be poured before being placed on the skirt/dress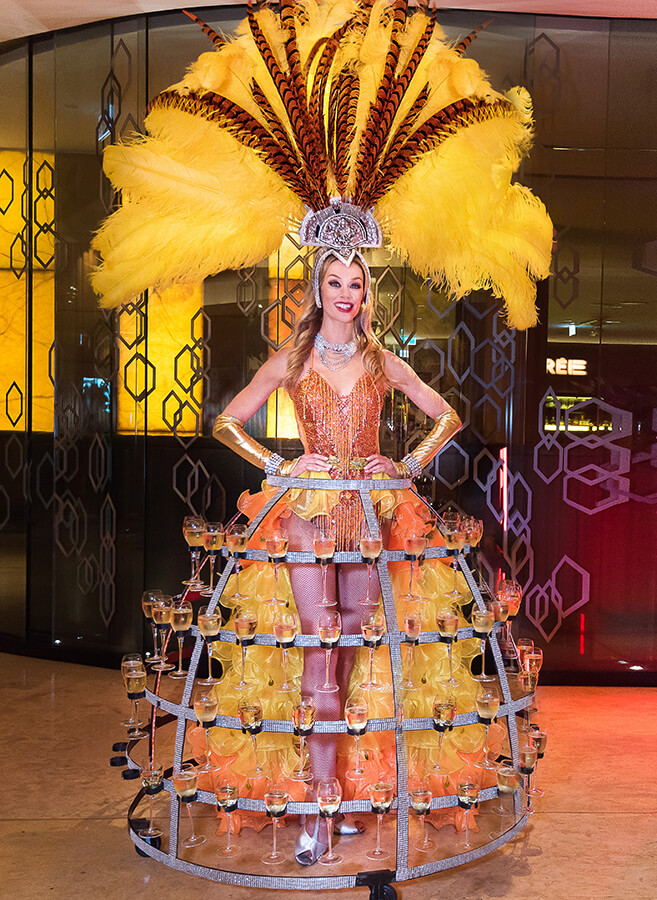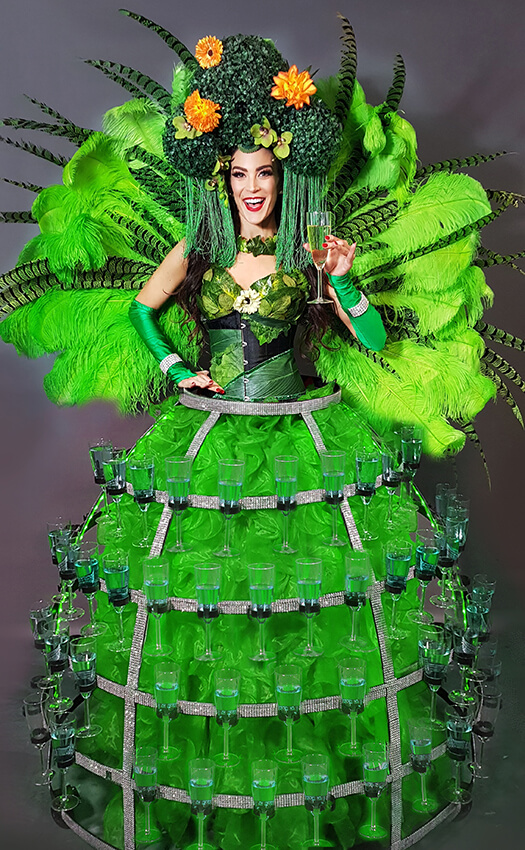 The glasses must be poured before being placed on the skirt/dress
The Champagne Dress performer and Stage Manager will have the right to stop waiters or bar staff from incorrectly filling glasses or from the act continuing.
A table (Prep-table) must be setup close to the Dress and used as the station where my entertainment manager and the waiter will be able to work, filling more glasses.
Champagne and Prep-Table must be ready for the performer 15min prior to start time. With f glasses and bottle ready to go. The initial filling of the skirt will take two people approximately 10mins.
The placement of this act cannot be blocked into the event or function. The showgirl and the skirt must be able to be bumped out at the conclusion of the booked time.
The skirt can be rolled into the venue and to the desired location. Please note this is not a moving act. Once filled the skirt is to stay in the allocated location and not be asked to rove around.
We recommend the Champagne Showgirl have some lighting if she is going to be set in a dark area.
Her skirt will be lit with LED's but always great to have at least a Par56 can shine down on her too. Helps with guests taking group photos and selfies.
If the client wants her to be raised (recommended), the stage must be no small than 135cm squared or larger than 145cm squared.
We advise that the venue hold off on serving champagne to guests till after this act has finished.
There would be less interaction with the Champagne Showgirl if all the guests have already been served their sparkling.
View our Champagne Dress Waitresses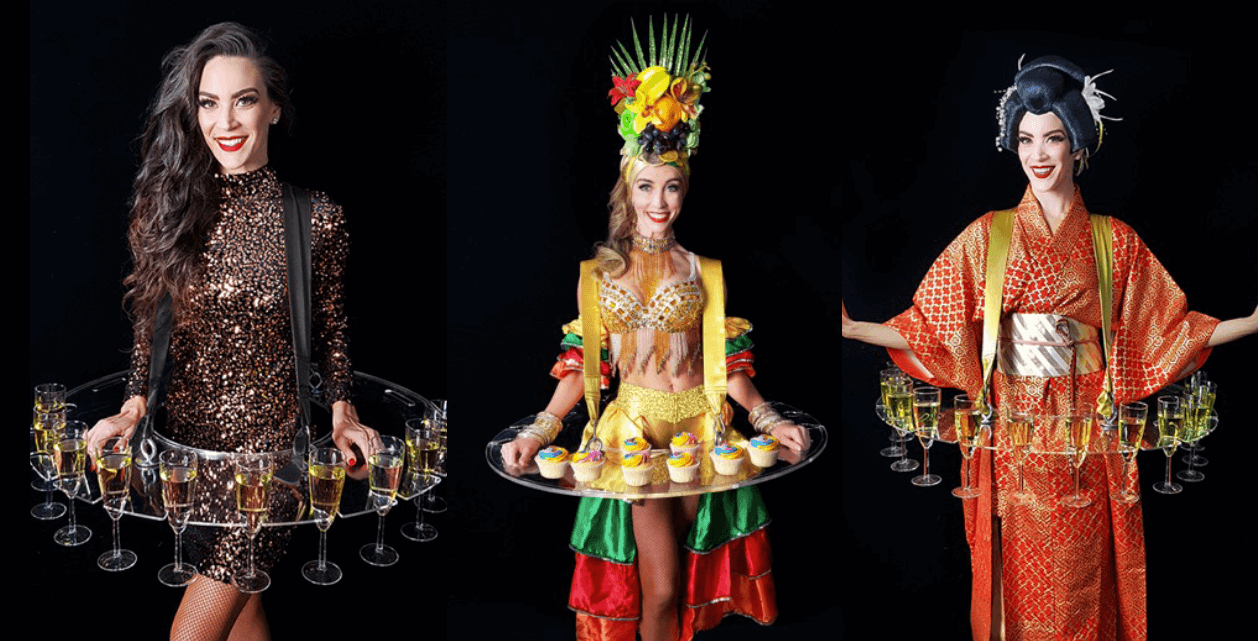 Suitable for any event, our roving wait staff bring sensation to any occasion!
Beautiful and divine, your waitresses will float and flutter between party conversations topping up champagne, serving delicious tapas, cupcakes or desserts adding atmosphere and class to your event. Waitresses can be customised to suit your theme with bespoke costuming or uniforms designed to enhance and impress. Choose a colour theme or brand orientated design to stand out and make a lasting impression.
Ideal for:
• Roving drink and food service
• Serving champagne and wine
• Serving food and desserts
• Meet and greets
• Photo ops
• Costuming to any theme or colour
So whether it be an exclusive VIP event, product launch or grand opening, our sensational servers will make sure your guests are impressed, well fed and charging their glasses—ganbei! kanpai! and cheers!
View our Roving Waitresses
We have countless themes and costume styles that will suit any themed event or function.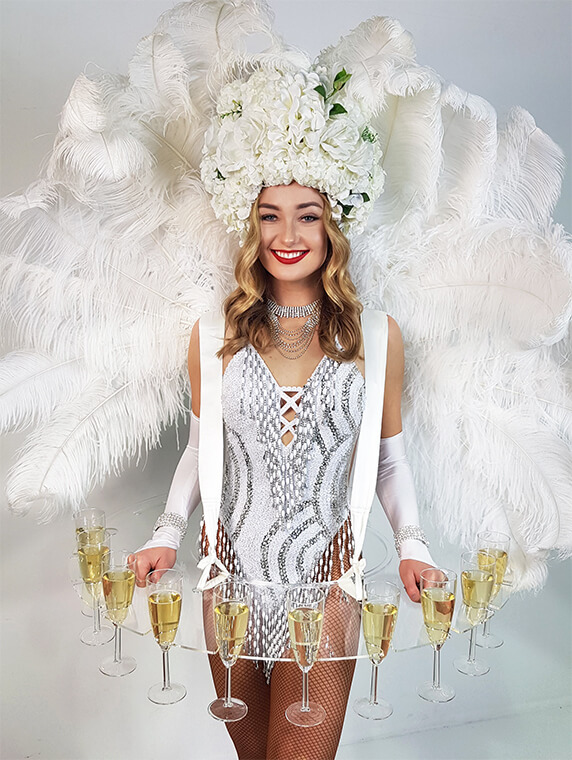 Roving Waitresses Technical Requirements
Client has the option to have up to x4 Roving Waitresses (Melbourne only)
Contact person on the day is required. Mobile contact number.
Complementary parking at venue or close to venue must be supplied for two cars.
A private and secure change room must be supplied with ample lighting, mirrors and bottled water. Public restrooms will not be suitable.
A bartender, waiter or someone from food & beverage will need to be working with our waitresses to assist topping up their trays throughout the
booking duration.
The performers will arrive 45mins prior to start time.
Upon arrival they will call the point of contact to be shown to the change room.
The position or area or roving should be pointed out to the performers before start time.
The contact is to introduce the performers to the bartender, waiter or someone from food & beverage that will be working with them, prior to start
time.
Trays fit 12 glasses at a time.
It is recommended that glasses are filled only to ½ way.
Glasses are to be filled prior to being placed on the trays.
We advise that the venue hold off on serving champagne to guests till after this act has finished. There would be less interaction with the Waitresses if all the guests have already been served their sparkling