Melbourne Wedding Bands
Choosing the right wedding band for your wedding is going to be one of the most crucial decisions you're going to make for your big day in terms of guest experience and enjoyment. As with most weddings there will be a broad spectrum of people in attendance, from young to old, and everyone wants to have fun!

What you need to consider is this,… The type of music that will get your party started. The ability of the band to interact with your guests and form a presence that people will warm to. A great wedding band will know how to get the crowd on the dance floor and keep them on the dance floor all night long. Your guests will have a great time, and remember your special day for years to come.
Melbourne Wedding Bands
Finding the right Melbourne Wedding Bands can be tough. Let's face it, there are some sharks out there, putting on viewings and then on the big day an entirely different band shows up!  We understand you want a band who presents well, is punctual, and most of all, talented! You want your Melbourne Wedding Band to work throughout the night. Music over dinner and then of course, ensure the dance floor is full all night long.
Melbourne Wedding Musicians
If you are looking for guidance or tips on wedding music, then check out the page under event types of the wedding page on the blog. However if you want to get right into listening to band demos, watching videos, looking at song lists to help you select the right Melbourne Wedding Band for you (as a couple), then read on!!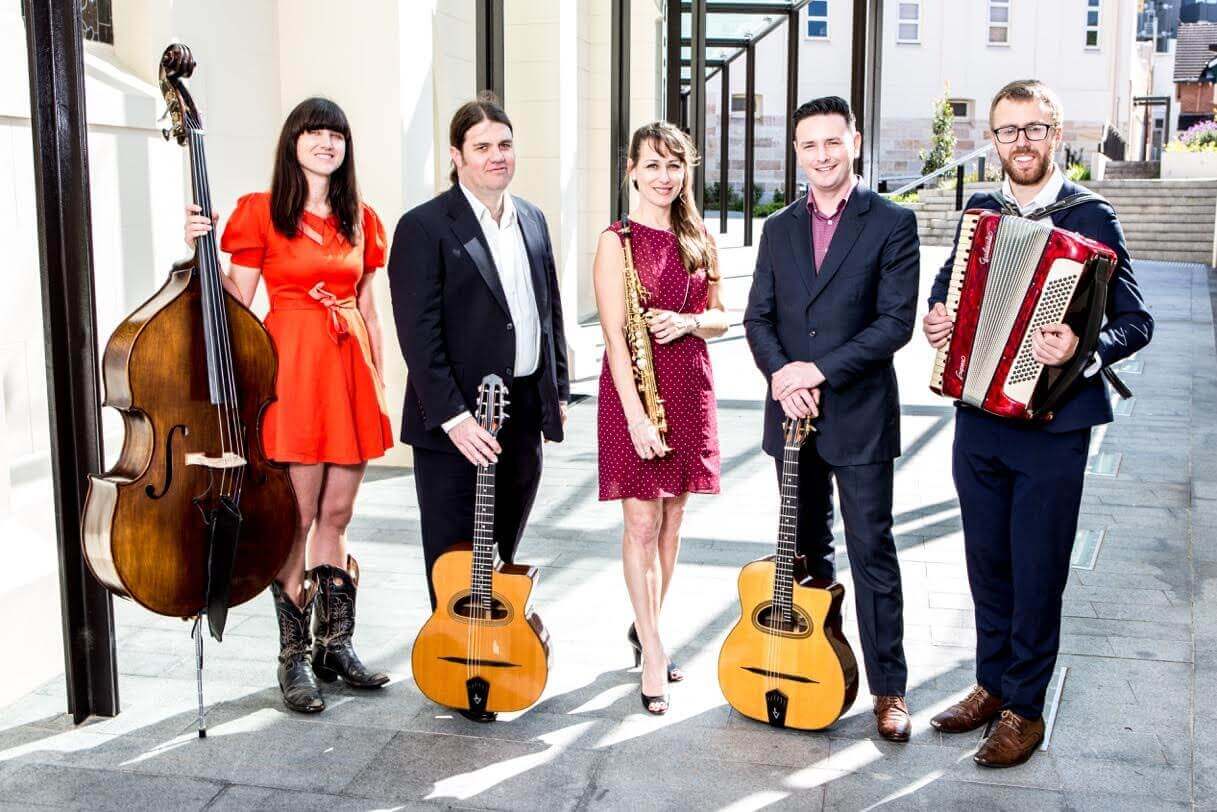 Melbourne Wedding Bands for Hire
Below are the most popular and professional Melbourne Wedding Bands – (4 piece and above). They are more suited to Wedding receptions than the ceremony, based on the size. If you are after a smaller line up, please look further down this page or go to our DUO & TRIO section.
Being a highly creative and bohemian city, Melbourne attracts all kinds of creative individuals and has an abundance of very talented highly musical musicians and awesome bands that would be a perfect fit for any wedding. Whether you'r looking for a classic covers band, something more contemporary or a smooth jazz band. There is plenty to choose from in Melbourne that's sure to fit the bill.
Have a look through our complete database of Melbourne based bands, offering all kinds of music, and each one with its own individual style and music…
View All Melbourne Cover Bands
Melbourne Wedding Bands – DJ with live musicians
If you are wanting something a little different and a bit hip, then the DJ COMBO acts are all the rage. Below are the most popular Melbourne groups combing a Dj with live vocals, Sax and percussion. Some add guitar, trumpet, string and other musicians. So, tell us what you are after.
Depending on the type of wedding or the demographic of your guests, a DJ with a live musician can be a great way to go. Offering a full sound spectrum with vocals that people can engage with, without taking up too much space inside your wedding venue. A DJ with live musician can be a great way to cater for younger guests or those that are looking for something a little simpler than a full band.
Checkout our range of DJ's with live musicians below and see if theres anyone that sparks your interest. Feel free to contact us with any questions you may have.
View All Melbourne Cover Bands
Smaller Melbourne Wedding Bands
These wedding bands are for couples wanting a smaller reception band. Duos and trio's this is your space. These are ideal for wedding of less than 100 guests, or for those on a budget, wanting to save money for the honeymoon! They can also perform wedding ceremony music as well as reception music.
If your wedding is of a more intimate nature, with less guests or in a setting that allows for a more delicate performance you could engage a duo or trio musical act instead of a full band. Melbourne has some amazingly talented duo's and trio's that will create a beautifully intimate atmosphere for your special day and and your guest experience.
Have a browse through some of our very talented duo and trio performers below. See something you like the look an sound off and get in touch. Feel free to contact us for any questions you may have.
View All Melbourne Duo and Trio's

Why Hire an Melbourne Band?
Melbourne is a hot haven for many a talented band and musician. Melbourne's arty vibe draws talent to this amazing city from all over the globe, and should provide you with a abundance of great bands to choose from.

Melbourne Musicians for Hire
Hiring Melbourne musicians is simple. Find the performers you are interested in and shoot through an inquiry or get in touch by phone. One of our talent experts will be happy to help you secure the best entertainment for your special day.

Melbourne Cover Bands for Hire
A cover band is great for getting people onto the dance floor swinging to the tunes they know and love. A cover band will give a full sound spectrum performance that will entertain your guests all night long.

Melbourne Jazz Bands for Hire
Jazz is perfect for those weddings that are are a little more intimate and have a discerning guest list. Jazz adds a level of sophistication that some other genres of music don't provide.
Melbourne Wedding Bands – Jazz bands
For couples who want a jazzy vibe. Less pop and more swing, then this is the place to look,. The Melbourne Wedding bands listed here are sophisticated, smooth, elegant and cool.
Jazz can be a great form of music for a wedding event. It's stylish, adds a level of sophistication and generally works well for both young and old, especially if its a funky jazz and rhythm type of vibe that the band generates.
A good Jazz band will have no trouble getting people onto the dance floor.
We've assembled some of the best Jazz bands in Melbourne for you below. Feel free to have a look through them all. If you have any questions, feel free to contact us.
View All Melbourne Jazz Bands
Solo Musicians in Melbourne
A solo musician is perfect for wedding ceremonies. Solo Musicians add ambience, energy and vibe to any wedding ceremony. Have a browse through our Melbourne solo musicians below…