DJ Vamp
If you've stepped foot on the dance floor over the last half decade then you would've seen these girls around. They know how to grab a crowd by its balls with their fun vocal mash ups, vampish dance behavior and DJ styles
Entertainment:

DJ, Dj with Live Musicians, Duos and Trios, Live Music

City:

Melbourne

Size:

2 performers
Video Samples
DJ Vamp

DJ Vamp, Melbourne Djs
Gallery
Singing list

Heads will roll
Jumpin Jumpin
Milk shake
Kylie- la la
I should be so lucky
Celebration
100% pure love
Sweet Dreams
Dirty Talk
Right there ( Nicole s)
Party Rock
Take over control
Super bass
Happiness
Give me everything tonight
Standing in the way of control
Teenage crime

Don't call me baby
You've got the love
Who runs the world
Mr Dj
Mr Sax o beat
Bounce
I got the moves like jagga
Take you higher
Don't ya
California girls
Champagne Showers
I wanna dance with somebody
Hello
I love it
Right Now
I need your love
Biography
DJ Vamp
We think what they're doing now is red hot VAMP as DJs are amazing and we love that track with Eve as well." THE STAFFORD BROTHERS
"They just get the crowd rocking…who wouldn't want two pretty girls on! stage singing and dancing?" ZOE BADWI

DJ Vamp, if you've stepped foot on the dance floor over the last half decade then you would've seen these girls around. They know how to grab a crowd by its balls with their fun vocal mash ups, vampish dance behavior and DJ styles!
The past five years have been busy ones for VAMP, playing not only in Australia but also internationally at the hottest venues and festivals. This year alone the girls have played for Optus in Shanghai, Love Nightclub on the Gold Coast, Iron Bar in Cairns, Love Machine, Jett Black, Pretty Please, Spice Market, Trak, Chasers, Taxi, The Cullen, Pawn & Co, Felix Bar, Anglers Tavern, The Nixon, Jimbo & Rex, The Atrium, Fusion and Co at Crown just to name a few.
The list of various private parties, corporate functions and events go on, including being requested by Shane Warne to jump on the decks two years in a row for his foundation, headlining for The Grand Prix at The Fire & Ice Ball for Ferrari, being requested by George Calombaris at the opening of his new restaurant "Mamma Bubba" and also being requested by Peter Helliar for the media launch of his new
ABC TV show "It's A Date". VAMP were also booked nationally for The Rainbow Run, raising some big bucks for charity and were requested by Joel Egerton to play at the wrap party for his film Felony. In November, the girls will be supporting Danish pop-group AQUA on their Australian tour.
Sarah and Kate have been penning in the studio with Gary Pinto, Katie Underwood and Eve (Grammy Award-winning American rapper). Some of the most exciting news in VAMP's career is close to being officially announced but until that time, Mum's the word. All we can say is "stay tuned" as these young stars are steadily rising and have much more to unleash on the world yet.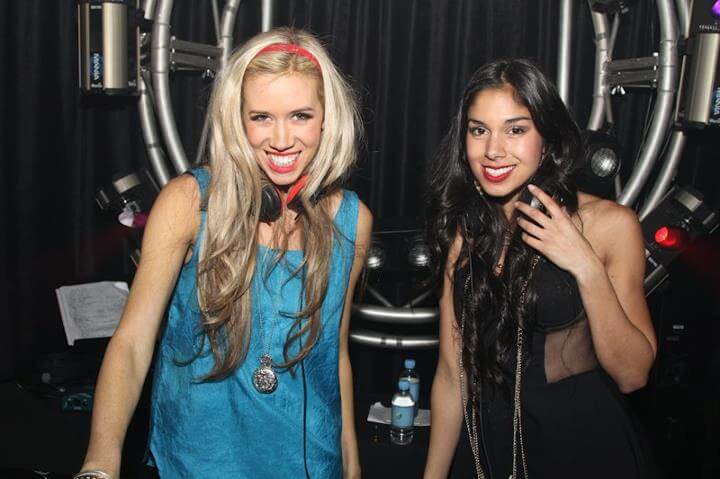 DJ Vamp is ideal for: