Entertainment:

1920s - Speak Easy - Gatsby, 1950's Theme ideas, 1970's - Studio 54 Theme, Black & White Theme, Bollywood Theme, Casino Royale Theme, Dance, Event Theme Ideas, Hollywood Theme Ideas, Hosts and Models, Impersonators, Parisian Cabaret Event Theme Ideas, Rio Carnival Theme, Roving Performers, Stage Shows

City:

Sydney
Gallery
Biography
Dance Productions Sydney

Dance Productions provides roving performers and dancers for corporate entertainment, special events, fashion shows, launches and clubs.
Featuring some of the greatest dancers in Australia with a broad range of dance styles from burlesque to broadway, cabaret to can can and hip hop. Whether it be a seductive burlesque soloist or a themed show, tailor made to suit your specific event, we will provide original, innovative concepts scaled to your specific needs, including choreography and creative direction.
We offer:
Dancers – all styles – solo to full dance troupe.
Roving Characters
Podium Dancers
Flash-mob
Promotional Staff
Acrobats
Contortionists
Themed Talent
Feature shows – custom and existing
Choreography
We specialise in choreographing for Film, live performance and special events. Having trained and choreographed all over the world, we guarantee to bring leading styles and cutting edge choreography to your event. We aim to bring that special WOW factor to all our performances. Your event is sure to be a hit when original concepts are brought to life by our dedicated team of professionals.
By creating personal performances to a clients Unique requirements, we connect to the audience on a personal level and provide a special touch.
Existing Packaged shows
If your budget doesn't extend to the creation of a completely new production,  we offer an extensive list of existing themes.
Dance productions brings your event to life with our pre packaged show. With exciting choreography and costuming, we also supply you with the highest calibre performers Australia has to offer. Their talent and energy will blow you away!
Any of our shows  can be altered and tailored to suit your specific requirements. Acrobatics, singers and contortionists can be added to any show to create the perfect evenings entertainment.
A Night at the Theater
Let us take you through a timeless musical experience. The classical Broadway styles to the modernised musical filmic adaptations – selections that young and old can enjoy.
On offer we have the infamous Grease, Moulin Rouge, Chicago, West Side Story, Singing In the Rain and A Chorus Line.
All a spectacle and a success in their time, using the hits of the shows that still resonate with audiences today.
A full 25 minute visual show with the ability of it to be enhanced with motion picture. This show can be cut down to suit your needs. See video above.
Viva La France
Thriller
Global Rhythms
Blue Angel
Let us know how we can spice up YOUR next event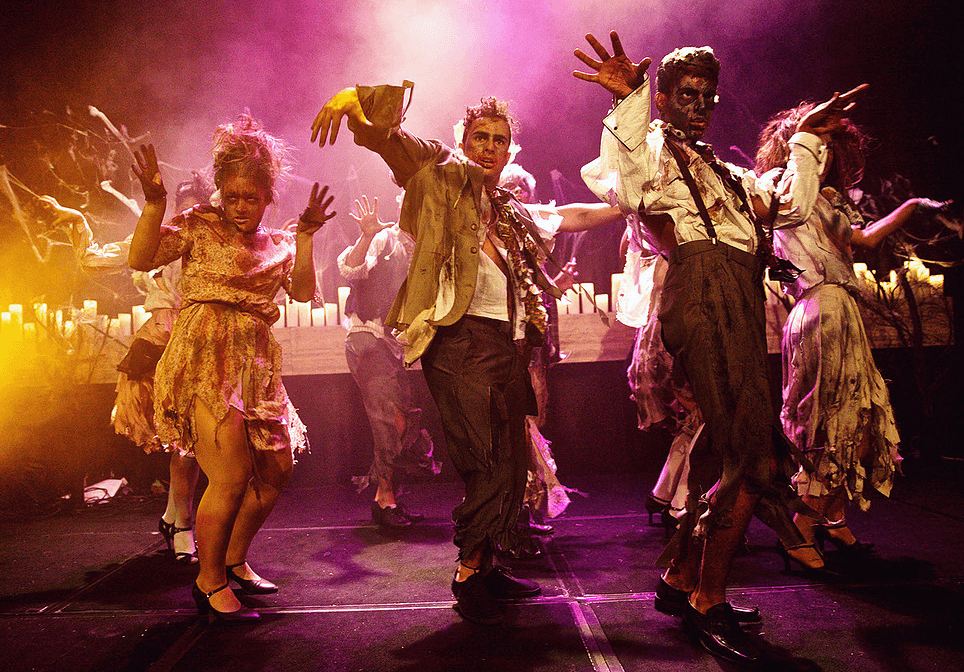 Connect and share on Instagram,  Facebook, Pinterest, Linkedin
Corporate Event management visit www.instinctevents.com.au