Entertainment:

Classical Music, Jazz Bands, Latin Jazz, Live Music, String Instruments

City:

Sydney
Audio Samples
Jazz Sunny Side of the Street

When I Fall in Love instrumental
Gallery
Standards:
Ain't Misbehavin'
All of Me
All the Things You Are
Almost Like Being in Love
At Last
Blue Moon
Blue Skies
Bye Bye Blackbird
Can't Buy Me Love
Close to You
Come Away With Me (Nora Jones) Desafinado
Don't Get Around Much Any More Embraceable You
Fly Me to the Moon
Girl from Ipanema
I'm Old Fashioned
It Had to Be You
I've Got the World on a String
I've Got You Under My Skin
If I Were a Bell
Imagination
In the Dark
I Remember You
It Don't Mean a Thing
It's Only a Paper Moon
Let's Fall in Love
Misty
Mood Indigo

My Funny Valentine
My Love (Paul McCartney)
My One and Only Love
My Romance
Nature Boy
Night and Day
No Moon at All
One for My Baby
On the Sunny Side of the Street
Our Love is Here to Stay
Paper Moon
Pennies from Heaven
Smoke Gets in Your Eyes
Someone to Watch Over Me Somewhere Over the Rainbow Stardust
Sugar in My Bowl
Sunny Side of the Street Summertime
Tea for Two
The Look of Love
The Very Thought of You
The Way You Look Tonight
They All Laughed
They Can't Take That Away From Me Turn Me On (Nora Jones)
Two Sleepy People
Unforgettable
When I Fall in Love
You Go to my Head
You'd be so Nice to Come Home to
Pop Songs:
Beautiful in My Eyes
Close to You
Come Away with Me (Nora Jones) From this Moment (Shania Twain) Hallelujah (Leonard Cohen) Hallelujah I Just Love Him So Heaven
(Candlelight Mix)
I Say a Little Prayer
I'm Kissing You
I'm walking on Sunshine
Like a Star (Corinne Bailey Rae) Message to My Girl
My Love (Paul McCartney)
My Way (Gypsy Kings version) Route 66
Songbird
Thank You (Dido)
The Nearness of You (Nora Jones) Time After Time
Turn Me On (Nora Jones)
When You Say Nothing at All
You Don't Know Me
Instrumentals
A Foggy Day
Aint Misbehavin'
All of Me
All the Things You Are Almost Like Being in Love April in Paris
Aqua de Beber
As Time Goes By
Autumn Leaves
Besame Mucho
Black Orpheus
Blue Bossa
But Beautiful
Come Rain or Come Shine Corcovado
Desafinado
Dindi
Don't Get Around Much Anymore Don't Go to Strangers
East of the Sun
Embraceable You
Georgia
Girl from Ipanema
God Bless the Child
Have You Met Miss Jones Honeysuckle Rose
I Get a kick Out of You
I'm Kissing You
I Remember You
I've Got You Under My Skin
Isn't it Romantic?
It Had to be You
Just the Way You Are
Let's Fall in Love
Like Someone in Love
Misty
Mood Indigo
Moonlight in Vermont
Nature Boy
Night and Day
Oh Lady Be Good
On a Clear Day
Over the Rainbow
Satin Doll
September Song
Smoke Get in Your Eyes Somewhere Over the Rainbow Stardust
Stormy Weather
Summer Samba
Summertime
Sunny Side of the Street
Sway
Sweet Georgia Brown
Take Five
Take the "A" Train
Tea for Two
The Days of Wine and Roses
The Lady is a Tramp
The More I See You
The Shadow of Your Smile
The Way You Look Tonight
There Will Never Be Another You These Foolish Things
They Can't Take That Away from Me Unforgettable
Wave
What's New
When I Fall in Love
You Are the Sunshine of My Life You Go To My Head
Classical for Wedding Ceremonies
Air – Haydn
Air on the G String –Bach
Allegro – Handel
Allegro – Mozart
Ashokan Farewell – Schubert
Ave Maria – Bach/Gouno
Ave Maria – Schubert
Bouree – Handel
Bridal Chorus – Wagner
Canon – Pachelbel
Cantabile – Chopin
Cavatina – Meyers
Chanson De Martin – Elgar Chanson Triste – Tchaikovsky Clair De Lune – Debussy
Dance – Scarlatti
Dance – Schubert
Ecossiase – Beethoven Edelweisse – Rodgers
Eine Kleine Nachtmusik – Mozart El Choclo – Villodo
Gabriel's Oboe – Morricone Gavotte – Fischer
Gavotte in D – Gossec
Gigue – Bach
Grand Waltz – Chopin
Humoresk – Dvorak
Humoresque in F – Dvorak Hungarian Dance No. 5 – Brahms I Vow Thee My Country – Holst Jesu Joy of Man's Desiring – Bach La Cumparsita
– Rodriguez
La Donna E Mobile
Largo – Dvorak
Largo – Handel
Madrigal – Turini
Minuet – Beethoven
Minuet – Handel
Minuet – Mozart
Minuet for Anna Magdalena – Bach Minuet in G – Bach
Minuet – Boccherini
Moment Musical – Schubert
Musette – Bach
Nina – Pergolesi
Nocturne – Borodin
Nocturne – Chopin
Norwegian Dance – Greig
Passepied – Handel
Plaisir D'Amour – Martini
Prelude – Mendelssohn
Reverie – Debussy
Room with a View (Oh Mio Babino Caro) Puccini
Sarabande – Fischer
Scotch Dance – Beethoven
Serenade – Haydn
Serenade – Schubert
Sicilliano – Bach
Sonatina – Beethoven
Spartacus – Khachaturian
Spring – Vivaldi
Spring Song – Mendelssohn
Sukiyaki
Tales from the Vienna Woods – Strauss Tarantella – traditional
The Swan – Saens Sanz
Theme from Aria – C. Bolling
Theme from Fantasia 1 – Mozart Theme from Love Dreams No. 3 – Liszt Trumpet Tune – Purcell
Turkish Rondo – Mozart
Valse Lente – Debiles
Waltz – Brahms
Wedding March – Mendelssohn
Winter – Vivaldi
Biography
Classical Wedding and Function Music
Planning a wedding of function is a big task. Of course you want to employ people who are experienced and reliable so that you can relax and enjoy yourself on the big day.  Sydney Wedding & Function Music has more than fifteen years of experience in this area, so you can trust that you are in good hands. We have the best available wedding & function music in the industry.
We can advise you as to the musical combinations most suitable for your wedding ceremony and reception according to your individual tastes, as well as the number of guests, the style of wedding etc.
Most people think of a string quartet when they consider music for their wedding ceremony, but there are various options available. If you are having a smaller wedding, a duo or trio may be ample. You may like to keep it all classical, or you can have a mixture of styles. Some groups can play classical as well as jazz, so you can have a range of music styles during your wedding ceremony and reception.
You could have classical music during you ceremony, with a jazz or pop ballad sung during the signing of the register. You could then have some light jazz vocals at pre-dinner drinks. During the dinner you might choose either instrumental or vocal jazz, classical or a combination of styles for background music during dinner. Then dance to your bridal waltz played live – how romantic!
Corporate of Function Classical and Jazz Music
If you are looking for the perfect accompaniment to your next event, we provide classical and jazz musicians of the highest calibre. We have extensive experience providing event music at trade shows, presentation evenings, gala events, cocktail parties, private special occasion parties, bank and shop openings, corporate dinners, Christmas parties, luncheons and a host of other occasions.
Whether it be a solo violin, string quartet, jazz band or Latin trio, we will add that special touch to your event.
Classical Wedding or Function Trio or Quartet
This exciting and dynamic flute, guitar and cello combination can perform a variety of styles, including Classical, Spanish, Latin, New Flamenco and popular styles. For wedding ceremonies, Flutist can also sing for the signing of the register, so there is no need to hire a vocalist.
The group can provide it's own battery powered amplification so they are highly suitable for outdoor wedding ceremonies as well as indoor events. They can provide full amplification for larger events.
If you provide the sheet music, most songs can be performed by the combination, including pop songs, worship songs and hymns. Something a little different to the traditional string quartet!
Jazz Trio
Book our JazzTrio to create the perfect atmosphere for your special event – the jazz trio play a mixture of vocal numbers and instrumentals, or they can also perform as a purely instrumental group if you prefer. The music has a relaxed, smooth feel which is never too loud or intrusive. The group can be expanded to include other instruments such as sax and/or drums for larger functions, or perform as a vocals/flute and guitar duo for more intimate occasions.
This versatile jazz band performs jazz standards from the Great American Songbook made famous by classic performers such as Ella Fitzgerald and Sara Vaughn as well as the respected contemporary artists Diana Krall and Nora Jones. Jane performs with a lineup of Sydney's most respected jazz musicians. If you love jazz, you will love this group! Jane's unique combination of vocals with flute is complimented by jazz guitar and bass.
For your wedding, the Jazz Trio has the versatility to perform some classical numbers for your ceremony, and then some light classical or jazz for your pre-dinner drinks, some subtle background music for your wedding reception dinner and some up-tempo numbers for dancing later in the night.

String Wedding or Function Trio or Quartet

Sydney wedding or functions Strings plays your favourite Classical pieces and more! The string quartet can also perform a great selection of top 40, pop, jazz and movie themes. Make your wedding or event music truly individual – if your favourite song is not on our list, we can arrange it especially for you.
Our String quartet was the highest ranking string quartet in NSW for the wedding ceremony music section in the prestigious Australian Bridal Industry Academy (ABIA) Awards for 2011 and 2012. We were the overall 3rd place winner for 2012 in the ceremony music section. We were also the runner up in the Australian Bridal Directory Customer Service Award for 2012 in the music and entertainment NSW section.
Our musicians are very polished in every sense of the word, not only do they sound great, but they look great too. The men wear dinner suits, white shirts and black bow ties. The ladies wear black formal wear.
You can choose to have a String Quartet or String Trio, or the Classical Quartet or Trio which includes the flute. For a more intimate occasion you may like to book a duo or a solo violin. The quartet also performs a selection of Classical and popular songs with soprano Georgina Makdessi. The quartet can perform fully amplified for your reception so your music won't be lost in the crowd.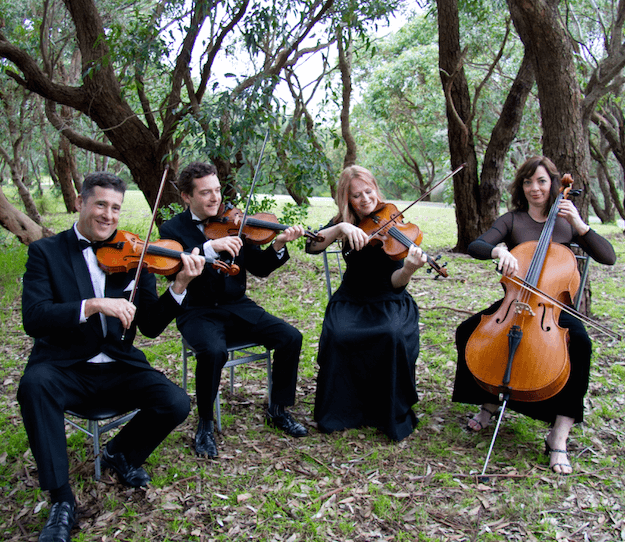 Connect and share on Instagram,  Facebook, Pinterest, Linkedin
Corporate Event management visit www.instinctevents.com.au