Bushwazee
Bush Bands generally play in an acoustic folk music style.
There is a heavy emphasis on stringed instruments such as the fiddle, guitar and sometimes banjo.
Entertainment:

Australian and Bush Music, Childrens Entertainers, Cultural and Traditional Music, Musical Acts for Kids, Outdoor and Festivals, Roving Musicians, Roving Performers, World Music

City:

Melbourne
Gallery
Biography
Bushwahzee is a Melbourne institution – an enduring band of musicians. The band has seen many changes since its first gig at the Organ Factory in Clifton Hill in 1981, but the current line up is Paul Jenkins, original Bushwahzee member, singer, dance caller and lagerphone extraordinaire player; Felix Meagher – fiddle player, song writer and composer of film scores (including credits on Baz Luhrmann's Australia) and musicals; and Cyril Moran – Irish singer and guitarist well known around Melbourne for performing solo in Irish pubs. Bushwahzee specialises in performing songs and dances that get their audiences involved. The band is equally happy in playing at tables in restaurants and encouraging people to sing along as it is calling bush dances for everyone to get up and have a go. Their arrangements of Australian folk song have parts especially composed so that most people can very easily join in. Typical events the band plays at are weddings, birthday parties, re-unions, work place celebrations, outdoor events, get-togethers, sports nights and in schools.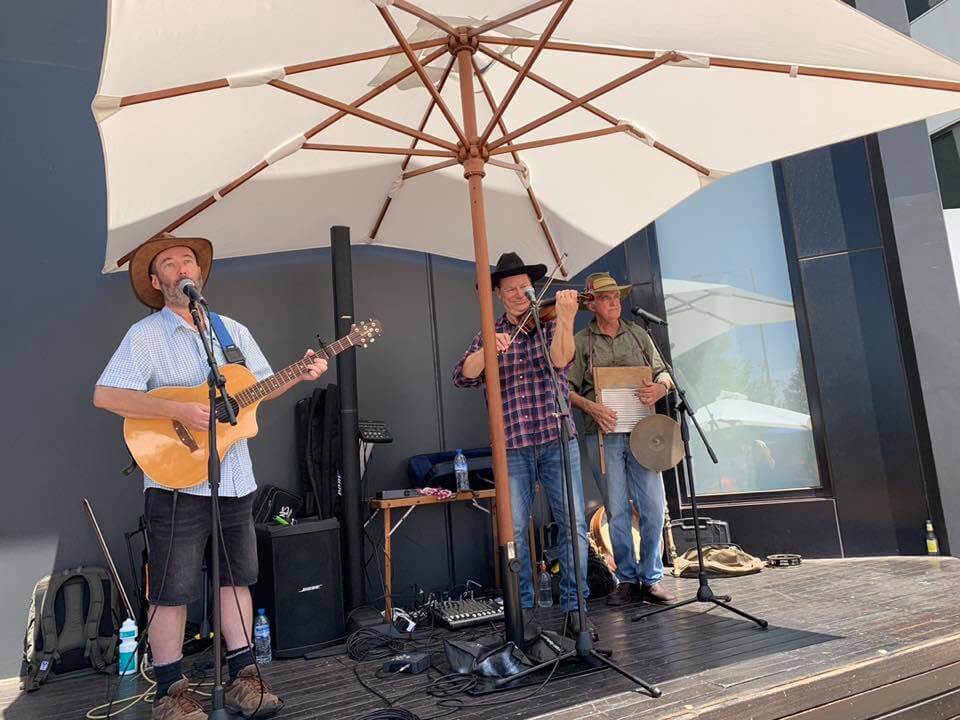 The band has worked in hundreds of schools around Australia, and are well known for their one day productions for primary school children – The Bush Cabaret, The Sixties Happening, The Country Music Show, The Surfwahzee Surf Show and Beach Party The Pirate Show – Band of Pirates, Bushwahzee Goes To Hollywood…cafe and The Bush Xmas. The band has wide variety in its play list. The list features many of the well known Aussie traditional and contemporary songs and dances, a selection of songs from the 1960s, and any number of Irish songs and tunes. The band members have also written a songs and dances – The G'day Song, The Puffing Billy Song, The Lagerphone Song, Convicts Wanna Dance, The Twelve Bar Barn Dance, Shark Shuffle, Beach Party, The Evening Star, Penguin Parade, Nunawading, Treasure Island, Walk The Plank, and Flies On the Ringer.
The permanent three piece line-up is often complimented by other musicians including Louey Hesterman, Cora Browne, Ian Tritt and the members of Whimsey Ben Goers and Christy Cooney.
In recent years Bushwahzee has become involved in staging its own musicals and plays. Felix Meagher has written The Man They Call The Banjo (about the writing of Waltzing Matilda) and Barry Versus Kelly (about the famous bushranger, Ned Kelly and the judge who hanged him), and both have been performed many times around Melbourne and Victoria.
Felix has also just finished writing the Street of Sighs, and a new project in conjunction with Lou Hesterman – Adventure Before Dementia is in the pipeline.