Ideas & Insights
Ideas for Gatsby 1920s theme events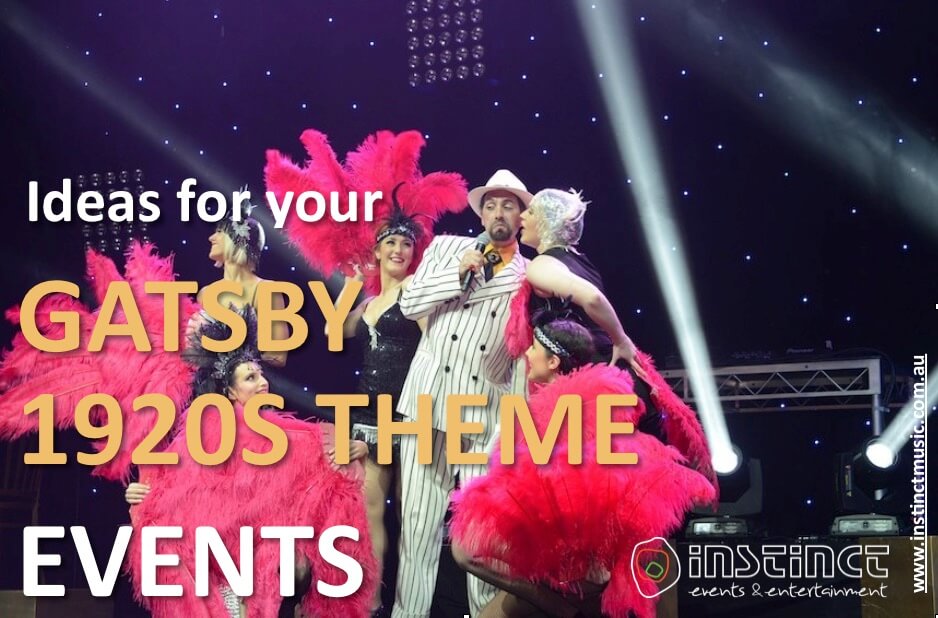 The Roaring 1920s, Great Gatsby or Speak easy/Prohibition themes are right back in vogue for corporate events and parties. Riding the back of the successful film adaptation of F.Scott Fitzgerald's novel, starring Leonardo DiCaprio, the Roaring twenties, has huge appeal and is an easy theme to deliver.   Full of Art deco style and design, great costumes for both males and females and wonderful entertainment, the 1920s offers corporate entertainment options event planners dream of.
Instinct events and entertainment have worked this theme a lot over the last year and have learned exactly how to deliver the event and corporate entertainment you need to maximise the return on your event.
Invitations for Gatsby 1920s theme
Set the scene for a great event with art deco inspired invitations. Instinct recently ran a bespoke 50th birthday for a client, and invitation also included art deco envelopes for donations to a charity (rather than receiving gifts, this client wanted to give back. -GREAT IDEA!)
Using bold geometric shapes, and focusing on black, white, gold and silver colour schemes, invitations should be posted or hand delivered. a digital "save the date' version can be sent out first, along with some supporting imagery, to build excitement.
Menus & signage for Gatsby 1920 theme
On arrival at the event all signage, table seating arrangements, and of course menus and wine lists should be printed using the same font and paper stock. Consistency in font, design, look and feel will help establish the 1920s theme in the mind of the guests, as well as help dress the room to impress.

Decor & Styling- Gatsby 1920s is easy
 The opulence of the 1920s era is unmistakable. Art Deco styling is a must, along with the sense of Prohibition, the illegal boot legging of booze, gangsters and unworried figures, and all the trappings of that "illegal " trade.
Crystal chandeliers, lush carpets, Ostrich feathers, pearls and fur of every description. Vintage Art deco posters from the period can be found cheaply and easily, adding "classic" to your event.
Vintage chaise lounges and other related period furniture can be used to add style to your room. These can be hired fairly inexpensively, with plenty of period reproduction furniture available across Australia.
Lamps and lighting can also add "highlights" to your room. Think about creating a "lounge or chill area, away form the entertainment or table arrangements. This provides the perfect place to people to sip on a cocktail and chat about the great event.
On the back of the Victorian era, indoor plants, ferns can be used, Think about using fairy lights to create highlights of these Styling features.
Wooden crates and whiskey barrels can also be used to imply the illegal booze trade or "boot legging". Don't forget to add signage. It can really add to the vibe and "message" the props bring.   We have even had 1920s themes parties where all the drinks (spirits and wine) were served in tea pots and old style crockery was used instead of glass wear (a practise often used in "Speak Easy" bars, so no one could see what you were drinking.   Simply a late night cup of tea is all!! (if anyone is looking)
Table dressing: centre pieces from the table could feature lamps, martini glasses with beads and candle votives, feathers and more, Ask us about your table styling.
Bar: If there is a bar, don't forget to dress this with a few choice props. A lamp, a vase of ostrich feathers,
Costumes for Guests and performers
Nothing beats dressing up, Especially if you have a Gatsby or1920s or 1930s themed event. Clothing was amazing back then.  So encourage all your guests to get into the vibe.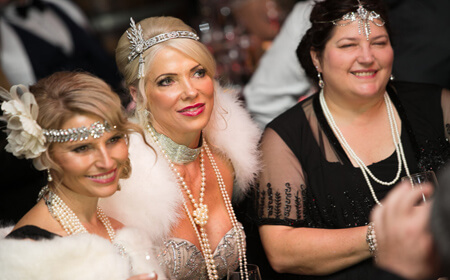 1920s Gatsby or speakeasy For the girls
Beaded gowns, with feathers,
Pearls necklaces and drop ear rings
Tassels
Hats, headbands and scarfs
Art deco jewellery
Layers of fabric
Silk stocking , suspender belts and garters
Feathers
Heels
 

1920s Gatsby or speakeasy for the boys:
Fedora hats
White Linen suits
zoot suits
Golf "Checked" suits and caps
Slicked back hair
Gangster looks,
Pin stripped suits, or shirts
Matching ties, handkerchief and cumber bun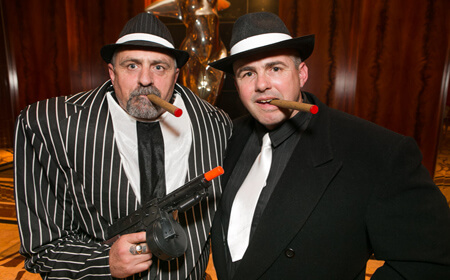 Stage & set design
Specialist backdrops can add to you vibe, as can beaded crystal curtains. anything the glitters and gleams with the stage lights looks great, Art deco stage set props can also be used to great effect.
Stage layout must not compromise the bands ability to perform whilst continuing the "illusion" of the period for the audience. The stage is a central place of focus for the audience, hosting both entertainment and formalities and speeches. Ask us how we can dress your stage to impress.
Entertainment for Gatsby 1920s theme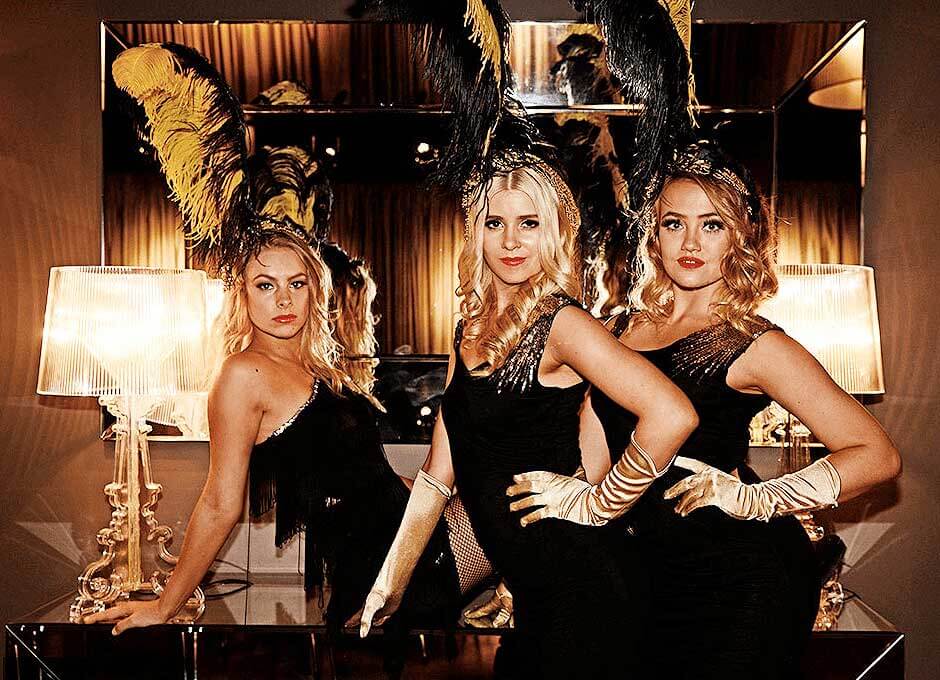 Vintage Meet & Greet Roving characters are an ideal way to set the tone of the themed event. They also create great photo opportunities for guests.
Popular celebrities for the period, Charlie Chaplin, Greta Garbo, Babe Ruth can welcome you guests, along with bell hops, cigarette girls, concierge characters.
Vintage paparazzi work a treat on arrival, creating the hype you want, as well as providing great photos of the guests arrival.
Gangsters & Gals : Larger than life characters, such as Al Capone or BIG TONY can also great you guests, along with their "loose " flapper gals, that seemed to be attracted to the money and power of these characters at the time. Colourful costuming, featuring feathers and bead, along with the fake machine guns or violin cases they come in, great backdrops for selfies as guests arrive.

Flapper Dancers : No 1920s, Great Gatsby or "Speak Easy" themed event is complete with out some classic dance routines for the period. They also double as great meet & greet roving acts. Other "Swing" dancers can also provide the right vibe for this period, performing Charleston, jive, swing and many other styles for the Gatsby Era or roaring 1920s.
Prohibition style dance shows may include Burlesque performances, adding a bit of the risqué to your event is a great talking point. Just be careful of wardrobe malfunctions!!!
Live music – You ain't go not thing, if you don't play that swing!! Jazz and swing was all the rage. Think "putting on the Ritz" to Louise Armstrong. Big bands emerged with huge horn sections complementing the driven rhythmic sounds of the era.

Live Jazz Bands often features double bass or upright bass, acoustic guitar or early F-hole style jazz guitars. performing high energy jazz these bands range for 5 to 20 piece orchestras.  Think about hiring a baby grand piano if budget permits. The are great furniture, and really set the stage. Instinct has a range of GATSBY style jazz bands in Melbourne, Sydney and around Australia to help you deliver this theme in style. ask us about our corporate entertainment offering
Gaming tables: of course, with gangster, boot legged illegal booze, come gambling. at the rage at the time, back jack, roulette, and poker tables are a must for the 1920s event theme.

Food & Drinks
Think martini, tom collins and other cocktails of the period. Of course BUBBLES! If possible, try and get hold of the old style champagne glasses. Before the flute, they were wider – which did cause the champagne to go flat more quickly. All the more reason to consume it quickly !!!
Costumed barmen could help deliver the 1920s vibe and theme to your guests. Why not have gangster style barmen, long sleeve shirts with folded sleeves, braces and bow ties.   Food for the era was a mix of traditional shrimp cocktails, caviar, popcorn and "canapés" style food.
Ask us about our range of corporate entertainment, cover bands, roving performers , stage shows and props that can bring your Gatsby or 1920s theme to life.
call 1300 881 611