Ideas & Insights
Company Anniversary event
Company Anniversary Event
When companies have milestone celebrations, a lot of pressure can placed on key staff to exceed the expectations or the boss, owner or board.In this case the amazing success of Golden Age over the last 10 years was celebrated. Moving from a single dumpling shop to over $3 Billion Dollars under contraction in 10 years in no mean feat, a fact not lost on Lord Mayor Robert Doyle who attended as a special guest.
Company Anniversary Event – Early planning pays off
Instinct meet with Golden Age in the early stages of planning to discuss the spaces, the proposed entertainment as well as the role of the host/Mc.  Each act was carefully selected for its appropriateness for both the Australian and Chinese guests in attendance.  Instinct also provided full corporate video production for this event.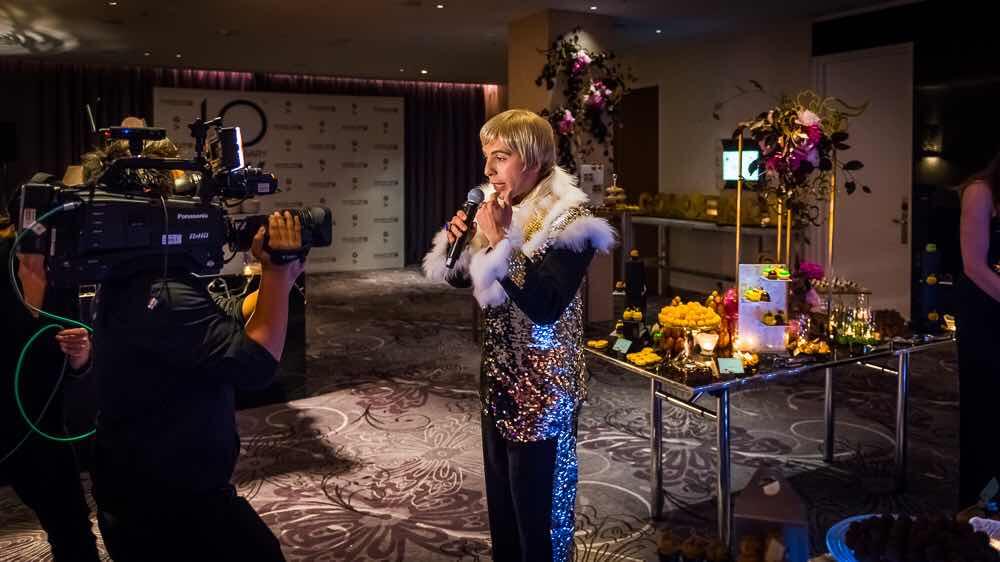 Company Anniversary Event – Superb Host with the most
In this Instance comedic character host "
Dick Deveroux
" was selected, for his skills with the microphone e, quick wit and "TV " appeal.The run sheet had him announcing himself from inside a photo booth- which proved quite the grand entrance. Interviewing the head chef back of house in the main kitchen (who in trun absolutely rose to the occasion and of course , MC'ing the main affair.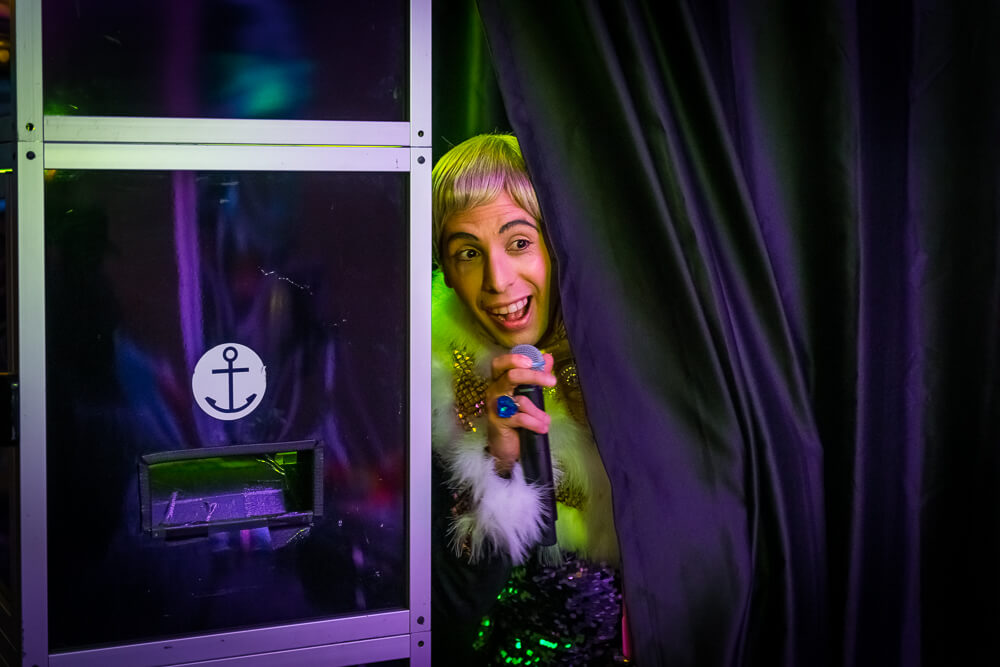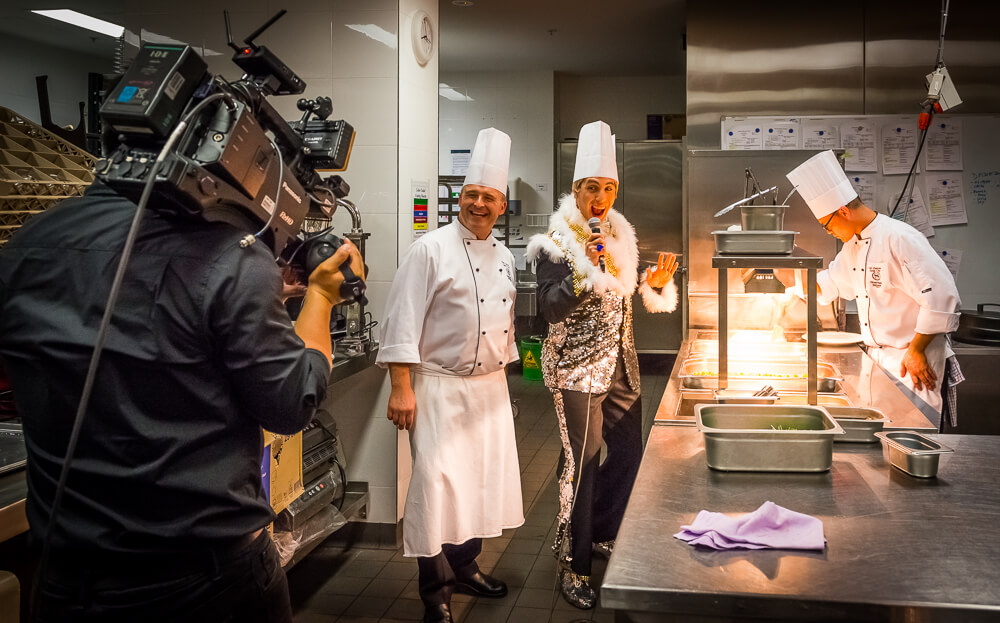 Company Anniversary Event- Dancing
When the dust settled on formalities, awards, speeches and the main meal, most corporate events carry an expectation of a party or good time.  This usually encompasses a great dance band.  
Chunky Jam
have become the "band of choice" for numerous corporate event planners and corporations. In recent years strong success with Chinese /Australian events has lead the band to learn a number of songs in Mandarin.  This provided a real highlight  for the guests  and exceeded their expectations.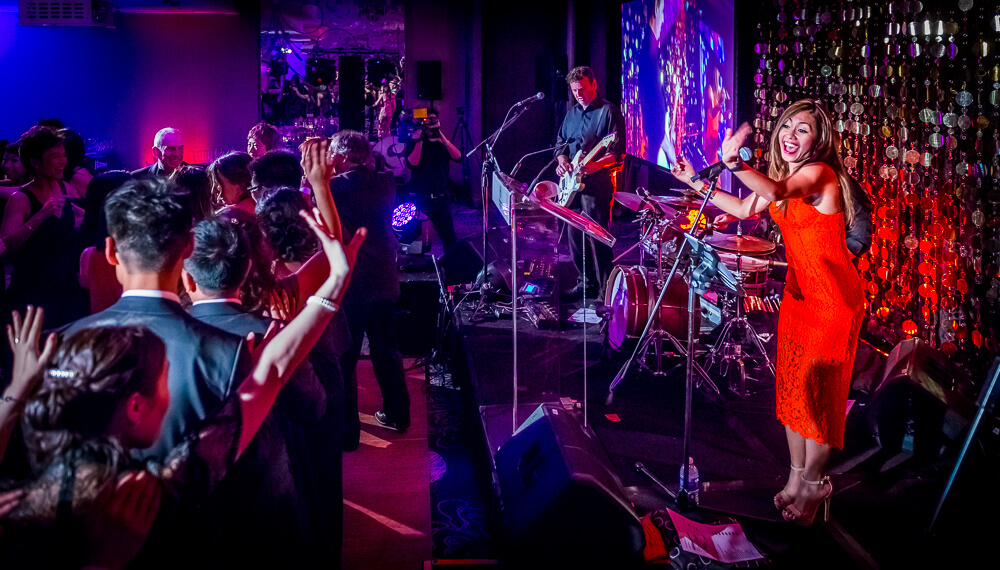 Company Anniversary Event- Client feedback
Hi Richard,I'm writing this e-mail to say thank you for organizing the most fantastic MC, Band and hosts for our 10th Anniversary event which was held last Friday. And apologized for sending it this late… I had a mailbox melt-down which had just been fixed by now. Dick Deveroux was definitely the highlight of the night! Thank you for recommending him to us. Due to our cross-cultural background, we were little bit concerned about our Asian guests' taking of Dick's style. But thanks to your great understanding of our needs and accurate briefing to him, he nailed it!   The guests had great fun with him! As I don't have Dan's contact detail, please kindly pass on our gratefulness to him. He was the star of the night! As usual, Chunky Jam didn't let us down! Even our very shy guests went on the dancing floor and enjoyed themselves. And the 'moon represents my heart' was just a very nice gesture to our Asian guests. They need to learn more Chinese songs for our future events. JHosts are amazingly beautiful and very helpful as well. And they managed to get the evening gown to suit the night's theme was very much appreciated. Last but not the least, thank you so much for being there throughout the night, which was much appreciated by us. Thank you again and looking forward to working with you again in the futute. Regards,Dandan Zhao –Marketing & Sales Director
Richard, 您好! 实在不好意思,因为我之前邮箱出了点问题直到刚刚才解决,所以直到现在才给您写这封感谢信。上周五我们十周年的活动举办得非常成功,真得特别感谢您为我们推荐了这么优秀的主持人,乐队和迎宾小姐。主持人Dick Deveroux毫无质疑是我们当晚的焦点。 太感谢您的推荐!晚宴之前我们还稍存疑虑,怕中西方的文化差异使得一些观众不能完全适应主持人的搞怪风格,但事实证明我们的担心是多余的,当晚每一位宾客都玩得很尽兴,和主持人的互动也很棒!这与您在整个过程中充分了解我们的需求,和主持人的有效沟通是密不可分的。真得很感谢您!因为我没有Dan 的联系方式,你能帮我传达下我的谢意么?谢谢!同以前一样,Chunky Jam乐队还是给我们带来了很多欢乐,也为我们的晚宴增添了色彩。他们强烈的舞台感染力让我们一些略羞涩的宾客也愿意走上舞台,和大家共舞。特别是他们唱的中文歌"月亮代表我的心"更是让我们的亚洲宾客大为惊喜,也掀起当晚的一波高潮,或许你们以后也可以多学点中文歌, 为我们以后的活动作铺垫。还有您推荐的两位很漂亮的迎宾小姐,也很感谢她们用心地为我们宴会穿上了美艳的礼服,与我们的主题非常吻合,真得很感谢! 整个过程中她们也很配合,积极地协助我们,谢谢!最重要得是真得很感谢您整晚都在现场协调和帮助我们,使得我们整个过程顺利有序,非常感谢您的用心,期待我们下次能继续合作!谢谢,丹丹
Instinct provided the following services for this Company Anniversary Event:
Entertainment supplied for this Company Anniversary Event:
Chunky Jam
Dick Deveroux
Promotional models