Ideas & Insights
Australian Comedians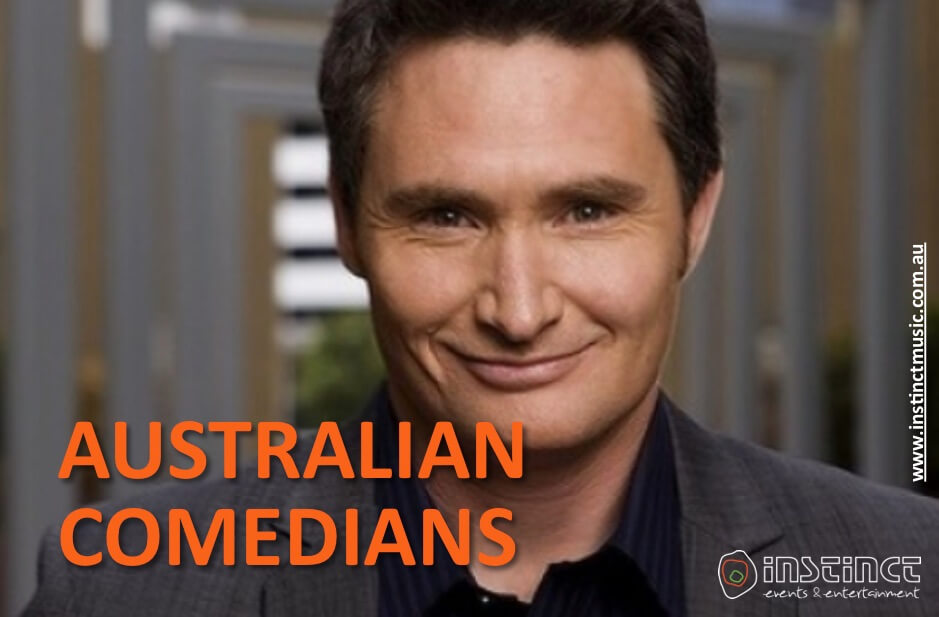 Australian comedians
Australian comedians have come of age.   Long gone are the times hiding in the shadows of small comedy clubs, where being funny was a boutique virtue. Australian comedians now rule the airwaves of most commercial breakfast radio channels. They fill the desks on TV shows, such as "The project", "Have you been paying attention" , "Rock wiz", "Spicks and specks", "Gruen Transfer", "Mad as hell" , "Dirty Laundry live" "Big Bite" "Pizza" "Summer Heights High" and numerous Hamish and Andy shows, to mention to name.
Only "Celebrity Chefs" have experienced the same meteoric rise over the last few years. They too offer equal "clout" in the media world. Australian comedians are in huge demand. So here are a few points to consider.
Search corporate comedians now >> 
Booking Australian Comedians
When it comes to corporate entertainment we often get asked to provide Australian comedians in MC or celebrity host roles.  Idea for awards nights, gala dinners and conferences, Australian comedians bring levity and laughs to formalities.   Additionally, their brand (often inflated with media exposure) bring BUZZ to corporate events.
The rise in Australian Comedians popularity has also lead to an significant rise in their pricing, and a decline in their availability.  Corporate client are often left disappointed their favourite Australian Comedian is not available for their conference, even though they start on radio at 4am the same day!
Mass media, TV, radio and touring commitments can often get in the way of a corporate event. Having said that, numerous Australian comedians has specialised in the area of Master of ceremonies or MC for corporate conferences. Vince Sorrenti is a great example. A consummate professional, Vince focuses on proving companies with w a seriously professional, funny master of ceremony service.
Australian Comedians for Corporate Events
If you want an Australian comedian for you corporate event, be clear on the role.  are they hosting the event or simply making an appearance ? The most common role is MC, followed by a "Comedy spot"
Australian comedians tend to offer the corporate event market a "spot fee' based on a twenty minute performance. Fact is, it is hard to hold an audience that hasn't paid to see you for longer than that,
Better to be funny and leave than become unfunny!
When to use Australian Comedians ?
The performance time for stand up comedy at your event may vary. Keep in mind to NEVER have a comedian perform over the meals. Firstly the sound of people eating, requesting condiments, glasses clinking together can be really rude and disconcerting for any comedian. More importantly, is the simple fact that you can not laugh with your mouth full!

Australian comedians for Awards nights
Many corporations and organisations turn to Australia comedians for awards nights. The profession MC/comedian is able to manage the logistics of the night, from the stage. They can hold the attention of the audience and give them a laugh simultaneously. They also interact with other speakers and guests in a way that ensures a great result
For larger and longer awards nights, or those with more than 20 individual awards, the use of Australian comedians in the master of ceremonies role, ensures the monotony of lengthy formalities, is broken up with a few laughs.
Australian comedians for charity events
The core purpose of the charity or fundraiser event is to raise money for the cause represented. This often requires telling or showing the audience the pain and suffering the cause is working to overcome. These "emotional moments' help to "move" the guests in such a way as to generate  compassion and sympathy and encourage people to "dig deep" and give the the cause.
A talented comic allows laughter and emotion to mix so the audience is "moved" but not "brought down" or depressed.
The comedian has an important role in most corporate entertainment. 
Lets face it, we all love a good laugh!