3000+

entertainers

1500

events per year

25 million

Australians entertained

15000+

events delivered
---
What type of event are you planning?
Search for the right entertainment and gets tips by clicking below
Entertainment for every event
We cannot stand average. Outstanding is the only result we find acceptable.  Simple!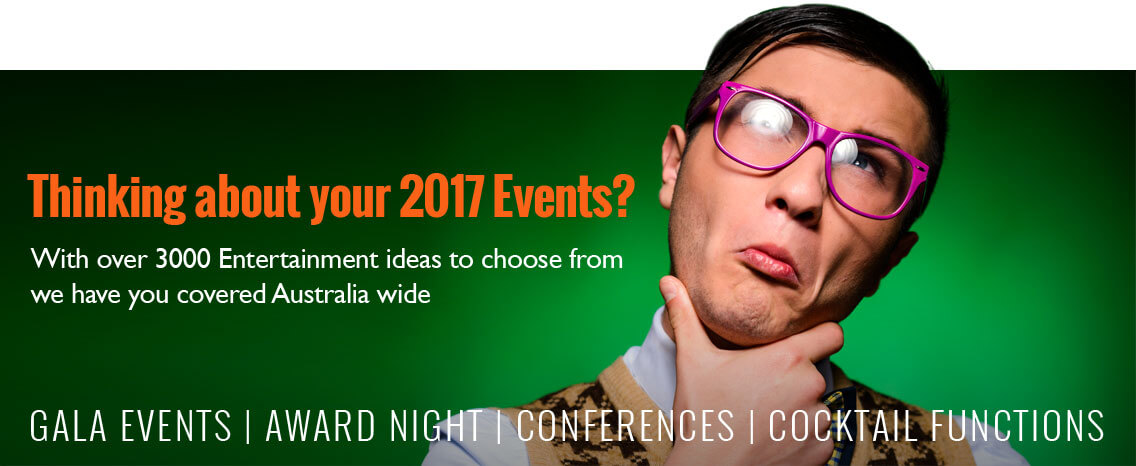 Corporate Entertainment & Conferences
Corporate Entertainment Agency or Speakers Bureau?
You can call us what you like, we don't mind!
Check out some testimonials or past work
---
 Some peeps we work with
---
  Hire Live Music, Bands & DJ's for your Corporate Entertainment
Find the best live music, bands, musicians or DJ's for your corporate event entertainment
Music is personal Tells us what you want and we'll do the rest
---
Corporate Event Themes or Party Theme Ideas ?
Search for corporate entertainment to suit your event theme?
---
Stage Shows, Feature Shows or "Wow" Acts
Big Impact in a tight time frame – The strange & the wonderful
Stage shows, feature shows or floor shows are an ideal way to create energy and uplift your guests  experience. They grab the audiences attention. Help break up formalities. Deliver the "wow" moment your event will remember.  Feature shows change the mood of a room, move people to tears or bring them to their feet in awe.  Stage shows include  music, fire, dance, magic and circus.

Selecting the right stage shows, like all corporate events hire, involves understanding the right event entertainment to suit your audience. Every event management professional knows the impact the right stage show or feature act can have on an event. 
Get the "WOW" moment guests talk about the next day
---
Roving Performers, Novelty Acts or Pre-dinner Entertainment
Roving Acts offer an affordable style of corporate entertainment. 
Roving Entertainers Bring Corporate Events to Life
Easily customised to suit your event theme, roving performers are an ideal way to bring your event theme to life.  Highly visual, they often make "appearances" at public events, sporting events, parades and family days
---
Need advice? Our Corporate Event Entertainment Experts are ready!
Call 1300 881 611 to find your live corporate event entertainment for your Melbourne, Sydney, Brisbane or Gold Coast events. Our team of event entertainment experts will provide excellent advice and help plan the perfect event. With thousands of local artists & entertainers we deliver the best corporate entertainment, unbeatable service and outstanding value.
Event Entertainment Concierge Service
---
End to End Event Planning.. Yes we do !
Event Management Melbourne & Event Planning Services
Instinct Creative Services for Corporate Events
Click to view more Creative Services,  Event Management 
"Events bring people together To Celebrate, Captivate or Communicate Corporate Entertainment Creates Moments People Remember"
---
 For Corporate Entertainment Hire and more
Call 1300 881 611