3000+

entertainers

1500

events per year

25 million

Australians entertained

15000+

events delivered
---
What type of event are you planning?
Search for the right entertainment and gets tips by clicking below
Entertainment for every event
We cannot stand average. Outstanding is the only result we find acceptable.  Simple!
Feel confident working with an integrated corporate entertainment & event management company. We have over 20 years experience,

delivered over 15000 events & entertained over 25 million Australians

. We've worked for some of Australia largest corporations and public events,  as well as helping thousands of couples and individuals just like you!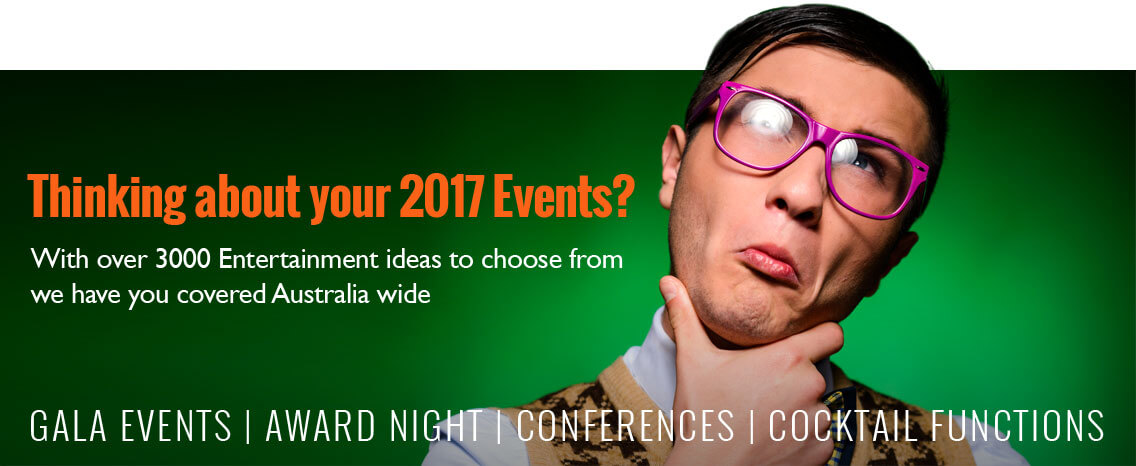 Corporate Entertainment & Conferences
Instinct Events & Entertainment is a corporate entertainment agency, speakers bureau & event management company combined. Providing fresh, modern and professional entertainers for hire suitable for corporate events, public events, private events & weddings across Australia.  
Corporate Entertainment Agency or Speakers Bureau?
You can call us what you like, we don't mind!
Check out some testimonials or past work
---
 Some peeps we work with
---
  Hire Live Music, Bands & DJ's for your Corporate Entertainment
Find the best live music, bands, musicians or DJ's for your corporate event entertainment
Music is personal
Tells us what you want and we'll do the rest
---
Corporate Event Themes or Party Theme Ideas ?
Search for corporate entertainment to suit your event theme?
---
Stage Shows, Feature Shows or "Wow" Acts
Big Impact in a tight time frame – The strange & the wonderful
Stage shows, feature shows or floor shows are an ideal way to create energy and uplift your guests  experience. They grab the audiences attention. Help break up formalities. Deliver the "wow" moment your event will remember.  Feature shows change the mood of a room, move people to tears or bring them to their feet in awe.  Stage shows include  music, fire, dance, magic and circus.

Selecting the right stage shows, like all corporate events hire, involves understanding the right event entertainment to suit your audience. Every event management professional knows the impact the right stage show or feature act can have on an event. 
Get the "WOW" moment guests talk about the next day
---
Roving Performers, Novelty Acts or Pre-dinner Entertainment
Roving Acts offer an affordable style of corporate entertainment. 
Roving Entertainers Bring Corporate Events to Life
Easily customised to suit your event theme, roving performers are an ideal way to bring your event theme to life.  Highly visual, they often make "appearances" at public events, sporting events, parades and family days
---
Need advice? Our Event Entertainment Experts are ready!
Call 1300 881 611 to find your live corporate event entertainment for your Melbourne, Sydney, Brisbane or Gold Coast events.
Our team of event entertainment experts will provide excellent advice and help plan the perfect event. With thousands of local artists & entertainers we deliver the best corporate entertainment, unbeatable service and outstanding value.
Event Entertainment Concierge Service
---
End to End Event Planning.. Yes we do !
Event Management Melbourne & Event Planning Services
Instinct Creative Services for Corporate Events
Click to view more Creative Services
Instinct Event Management Services for Corporate Events
Click to view more of our Event Management Services 
Event Production Services for Corporate Events Management
"Events bring people together
To Celebrate, Captivate or Communicate
Corporate Entertainment Creates Moments People Remember"
---
Australian Singers & Recording Artists
Add some "Buzz" to your corporate entertainment & events with headline recording artists
Book famous Australian Singers, popular Australian bands  here including Guy Sebastian, Jess Mauboy, Dami Im,Mark Seymour, Daryl Braithwaite,Delta Goodrem, Kate Ceberano, Jimmy Barnes and more for your corporate entertainment. In fact you can book any famous Australian Singers, Famous Australian Bands & pop stars for your corporate events. Performers from tv shows such as Australia's got talent, X-factor, The Voice, and more.
View more Australian Recording Artists
---
Television & Media Personalities, Celebrities, Sports Stars & Hosts
Celebrities available for Master of Ceremony roles and keynote presentations
Book Australia's Leading Television and media Personalities, Sports stars and celebrities including Larry Emdur, Dr Chris Brown, Karl Stefanovic, Richard Wilkins, Hamish & Andy,  Sonia Kruger, Natalie Bassingthwaighte and more. In fact you can book any TV personality, presenter, host, celebrity or sports star for your event entertainment, master of ceremonies or guests speaker, here at Instinct. For a more detailed list of Television and media celebrities or some suggestions, please contact one of our consultants now.
View more Celebrity Hosts
Deal with corporate entertainment experts to book your event entertainment.
---
Corporate Comedians, Stand up Comedy, Comics for Corporate Events
Comedy spots or Comedy Master of Ceremonies available for your corporate entertainment pleasure
Booking the funniest stand up comedians, corporate comics, comedy MC's and comedy shows including Ahn Do,  Dave Hughes, Kitty Flanagan, Carl Barron, Julia Morris, Claire Hooper, Vince Sorrenti, Dave O'Neil and more. In fact you can book any corporate comedian in Australia for your event entertainment for Instinct. Why not give your event a lift and the audience a laugh! Comedians are Ideal MCs and excellent corporate entertainment.
View More Comedians
---
 For Corporate Entertainment and more
Call 1300 881 611